Jianguo Qianmen Hotel, Beijing: Hotels in Beijing China Beijing Hotels Reservation
Located near Liulichang, Qianmen Dajie, Dazhilan shopping street and the Temple of Heaven Park.A ten-minutes walk will take you to either The Liulichang or The Qianmen business Street. The public bus link to many tourist attraction. While, The Taoranting Park a leafy retreat from the busy streets is ten minutes walk away.
Hotel Address:
No.175 Yongan Road, Xuanwu District, Beijing 100050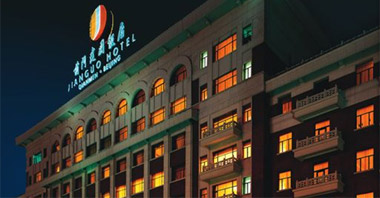 Hotel Room:
240 Rooms
Season:
High Season , Low Season

Hotel Location:

Location in the city map
The Jianguo Qian Men Hotel, Beijing is located 36-kilometers to the Airport, 3-kilometers to the city center and 7-kilometers to the Beijing Railway Station. Situated about 8kms to the Wangfujing shopping area.
See more pictures of Jianguo Qianmen Hotel, Beijing
Distance from landmarks:
To Beijing South Railway Station about 1.54km,
To Tiananmen Square about 2.41km, It will cost you 10RMB by taxi to hotel.
To Xidan Business Street about 2.57km,
To Grand View Garden about 2.98km,
To The Forbidden City about 3.21km,
To Beijing Railway Station about 3.83km, It will cost you 10RMB and 15 minutes by taxi to hotel.
To Wangfujing Street about 3.95km,
To Beihai Park about 4.34km,
To Jianguomenwai Street about 4.95km,
To Beijing West Station about 5.61km,
To Dongyue Taoist Temple about 6.58km,
To Beijing North Railway Station or Xizhimen Station about 6.58km,
To The China World Trade Center about 6.77km,
To Beijing Exhibition Center about 6.97km,
To Sanlitun Bar Street about 8.46km,
To Dongsi Road about 8.48km,
To BeiJing NanYuan Airport about 8.95km,
To Wukesong Indoor Stadium about 9.39km,
To China International Exhibition Center about 9.77km,
To Beijing National Agricultural Exhibition Centre about 9.97km,
To National Aquatics Center(The Water Cube) about 11.87km,
To The National Stadium(The Bird's Nest) about 12.52km,
To New China International Exhibition Center(NCIEC) about 24.77km,
To Beijing Capital International Airport about 27.4km,
To Badaling Great Wall about 60.78km,

*** Clicking on the underlined words you can find other hotels close to the same landmark
Nearby Hotels (less than 3 km):
♦
China People's Palace,Beijing

♦
Super 8 Hotel Jinbao Street (Beijing New dragon Hostel), Beijing
♦
Beijing Far East Hotel
♦
Beijing International Hotel
♦
Holiday Inn Central Plaza
♦
Beijing Xuanwumen Business Hotel
♦
Penta Hotel Beijing

♦
Grand Hyatt, Beijing
♦
Days Inn Joiest Tian An Men Beijing
♦
Howard Johnson Paragon Hotel Beijing

♦
Jianguo Qianmen Hotel, Beijing

♦
Suyuan Phoenix Hotel, Beijing
♦
Paradise Sunshine Hotel Beijing
♦
Beijing Broadcasting Tower Hotel
♦
Beijing Jun'an Hotel
♦
Shenzhen Hotel, Beijing

♦
8.8 Beijing chain hotels--San Li River Branch
♦
Jinqiao Hotel Apartment, Beijing
♦
GOTO Modern Hotel
♦
Beijing Yongdingmen Hotel
Beijing Qianmen Hotel was established in 1956, It is conveniently located in the business center of Beijing. The hotel neighbors Qianmen Commercial Street in the east, and Niujie, or Ox street Mosque, in the west. To its south is the Temple of Heaven while to its north, the fascinating Liulichang Antiques and Cultural Street. The Hotel is just three kilometers from the Tiananmen Square, five kilometers from the Beijing Railway Station, and 35 kilometers from the Capital Airport.
Hotel Facilities:
Air Conditioning, Beauty Salon, Direct Dial Telephone, Health Club, Peking opera Theatre, Business Center, Coffee Shop, Mini-bar, Lounge, Restaurant
Room Description:
The Hotel has 410 spacious and well-appointed suites, all with online services. Its total of 4 Chinese and western-style restaurants offer customers a variety of the finest cuisines. The hotel also has meeting rooms and multi-purpose halls. And there' s plenty of entertainment one thing especially worth mentioning is the daily Peking Opera performance at 7:30 pm in liyuan theatre.
Room Facilities:
Telephone, International Call, Air Conditioning, TV, Room Service