The ST-Tropez Hotel (Changsha Shengjuefeisi Dajiudian) is located close to downtown. It is 22 kilometers from the airport. Opened in 2001, the hotel features 275 rooms and suites, equipped with climate control, cable television, safe, mini-bar and sauna. The hotel property include western restaurant, Chinese restaurant, ballroom and meeting rooms.
Hotel Address:
Gold Hawk Movie and TV culture city, Changsha, Hunan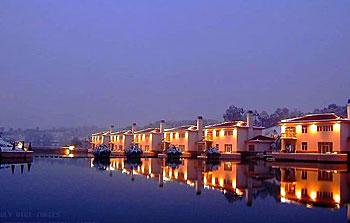 Hotel Room:
225 Rooms
Season:
High Season , Low Season

Hotel Location:


Location in the city map
Located in the Changsha New Century Culture City. Close to the airport express way, with the window of the World (Changsha) on the east. 30 minutes driving distance to the Huang Hua Airport. 10 minutes driving distance to the railway station. 20 minutes to the city center.

See more pictures of Saint-Tropez Hotel (Hunan Interntional Convention & Exhibition Hotel)
ST-Tropez Hotel is located a bit outside of the Changsha city center, 7 kilometers from the railway station. The hotel has a variety of rooms and suites, all equipped with latest amenities and features. A wide range of restaurants covers China's major regional cuisines, including Cantonese, Chaozhou and Hunan styles. There is also a Western restaurant, a coffee shop and cake shop. The hotel offers a massive multifunctional hall equipped with modern audio-visual facilities. The international meeting room can hold up to 150 people and features a simultaneous interpretation system. For recreation, there is a bowling alley, an indoor swimming pool, billiards room, fitness center, squash court and tennis court.
Hotel Facilities:
Air Conditioning, Beauty saloon, Coffee Shop, IDD, DDD, TV, In-Room Safe, Mini Bar, Tour Desk, Baby Sitting, Conference Facilities, Foreign Exchange, Gymnasium, Bowling, Massage, In-House Movies, Laundry, Non-smoking rooms, Banquet Facilities, Business Centre, Disco/Nightclub, Restaurants, Shopping Arcade, Swimming pool, Sauna
Room Description:
The hotel has a variety of rooms and suites, all equipped with latest amenities and features, such as central air-conditioning, private bath facilites, colour TV with statellite canncel, IDD, DDD, refrigerator, private safe, hair drier, coffee and tea set etc.
Room Facilities:
Telephone, International Call, Air Conditioning, TV, Room Service
Conference:
The golden hall can accommodate two thousand people, the international hall can accommodate two hundred people; Hall A, B, C, each hall can accommodae three hundreds people.
Restaurant:
Room service, Chinese cuisine, Western cuisine, Coffee shop, Bar/lounge,
Entertainment:
Pool/billiards room, Indoor swimming pool, Tennis, Fitness facilities, Sauna,