China Kaiping City:
Kaiping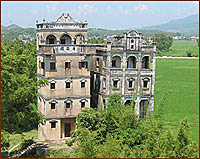 General Information:
Kaiping, China became Mesa¡¯s fourth Sister City on October 18, 1993. Kaiping consists of three port cities, Changsha, Xinchang, and Dihai, on the southeast part of the Pearl River delta that incorporated in 1993. The city has a population of approximately 650,000 people.
During Mayor Willie Wong's term in office, Mesa was contacted by several Chinese cities seeking an association in the United States. Since Mayor Wong and many Valley residents of Chinese heritage have family roots in the Kaiping area, Kaiping was selected. Mayor Wong led a delegation to Kaiping in October 1994. An official delegation from Kaiping returned the visit in June 1996. Kaiping invited Mesa to bring a trade delegation to an April 1997 Trade Fair.
Currently the Mesa Sister City Association is developing a student and teacher exchange program with Kaiping. In May 2000, a group of students and faculty members from Mesa Community College visited Kaiping for several weeks, assisting with English language classes at one of Kaiping's middle schools. Additional exchanges are being planned.
For more information on the activities of the Kaiping Committee, please contact Betty Lee at 480-969-9348.
Geography:
Kaiping in the start flat city Zhujiang River Delta of Guangdong Province coastal open district emerge, Total population 680,000 people, sojourn in abroad turn on flat book overseas Chinese and Hong Kong Macao Compatriot 750,000 people, Township feeling spreads five continents , there are friends all over the world. To merge Chinese
and Western culture for over years the one hundred create local conditions and customs of architectural style that overseas Chinese hometown take the course of its own.
Hold flat city geographical position and investment ring star of country city , close to Guangzhou, adjoin Hong Kong, It is the whole country township, township and culture, art of building in overseas Chinese
Township . The whole city 1659 the whole area square border superior, urban district form by Changsha, Xinchang, reed 3 ports of sea, Have " light Wuhan" and" six key" claim modern city and south of the lower reaches of the Yangtze River combine together, A wide expanse of flat land, the rivers interlock , the continent island is around the city, Face river in accordance with mountain, Hongqiao vertically and horizontally, port port beat in harmony, Winding pool river and dark green river that wriggle pregnant with overseas Chinese hometown natural,graceful and poised refined, graceful and restrained fine and smooth beautiful beautiful scenery, More than two river unique view of bank have much eastern graceful bearing of Venice, romantic charming riverine two sides scene paint if such as the poem, Brightness of flowers and birdsongs green leaves drunk, pavilions, terraces and open halls towering to stand, China silver peninsula" pairs of sail" pretty, The brilliantly illuminated gaily-painted pleasure-boat swims. Open the flat tourist resources rich and variedly . Enjoy natural view , have large environmental protection of Shahe tourist zone, beautiful to take high Liang JinShan of eyebrow of beautiful scenery of lakes and mountains; Appreciate the graceful bearing of overseas Chinese hometown, Have overseas Chinese of China gardens a special skill, stand a generation of midwest match well model of gardens - stand garden, accumulate ancient ancient and street ancient to carve floor town in store; Cherish the memory of revolutionary martyr, have and go through flames of war southern building of baptism, wedding - week gentle harmony Chen iron army martyrs' park of heroic and moving execution ground ......The capital in the river, exceedingly fascinating and charming, as if the peacock spreads its tail just like that magnificent and colorfully, Overseas Chinese hometown turn on flat one scenery alone beautiful, sophisticated appeal sheer tourist city of fine work. Open the flat long , the flourishing commercial port , the jewel of the southern part of the country, Sparkling, evil spirit side limitless. The friend comes from distant place, extremely!
Kaiping Map