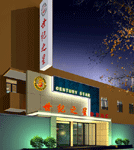 To Nanjing Railway Station 5.31km
Address: No.58 East Zhongshan Rd, Nanjing


Century Star Inn( East Zhongshan Rd Branch) is located in the Business Street in East Zhongshan Rd, adjacent to the Hu-Ning( Shanghai to Ningbo) and Ning-Hang( Ningbo to Hangzhou) expressway; east to Zhongshanling Scenic Spot; South to Fuzi Temple; West to Xinjiekou; near to the President House, 1912 fashion& casual street, and Electronic Street in Zhujiang Rd. This is a economy chain hotel, which supplying accommodation, simple dinner, chess and entertainment. You will enjoy the 3 star' s decoration, 4 star' s hard facilities, but with the 2 star' s expense. Excellent service makes you feel the warmth of home.