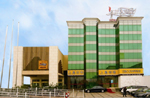 To Ningbo Railway Station 4.06km
Address: No 839 Zhongxing Rd, Jiangdong District, Ningbo, China


Maple Leaf Hotel Ningbo is a newly- decorated four-star business hotel. It is located in Zhongxing Road, Jiangdong District, Ningbo. It is just eight minutes' drive to CBD (Tianyi Square), just 30 minutes' drive from Lishe International Airport, 15 minutes' drive from the South Bus Stataion and South Railway Station, 15 minutes' drive away from the terminal station, only just 8 minutes' drive from Zhujiajian Expressway of Shanghai-Hangzhou-Ningbo Expressway and just five minutes from the entrance of Yongtaiwen Expressway of East Ningbo. The traffic is convenient and there are multi-city road leading to the four major Buddhist place – Putuo Mountain and the largest freshwater lake in Zhejiang Province – Dongqian Lake. It is also convenient to the national 4A scenic spot - Xikou scenic zone, as well as Beilun, Yuyao, Cixi, Xikou of Fenghua, Hot Spring in Ninghai, Xiangshan coastal tourist areas. It is 50 minutes' drive to Xikou scenic zone, 40 minutes' drive to 500 eco-tourism zones .