Jinjiang Hotel shanghai: hotel in Shanghai China







The five-star Jinjiang Hotel Shanghai is a well-known garden hotel and features a gymnasium, a swimming pool and a tennis court.
Hotel Address:
161 Changle Road South - P.C: 200020

Hotel Room:
582
Season:
High Season 16/03 - 15/11, Low Season (1/01 - 15/03) (16/11 - 31/12)

Hotel Location:


Location in the city map
1km to Shanghai Exhibition Center; - 2km to Renmin Square; - 5km to Shanghai Railway Station; - 13km to Hongqiao Airport; - 45km to Pudong Airport.

See more pictures of Jinjiang Hotel shanghai

Distance from landmarks:
To Huaihai Zhong Lu about 0.33km,
To Nanjing Road about 0.99km,
To Jingan Temple about 0.99km,
To Consulate General of Finland, Shanghai about 1.09km,
To Canadian Consulate General Shanghai about 1.19km,
To Xintiandi Nightlife about 1.3km,
To Paramount Party about 1.37km,
To French Concession about 1.41km,
To Shanghai Museum about 1.46km,
To Sogo Dep. Store about 1.51km,
To Shanghai People's Square about 1.64km,
To Raffles Square about 1.81km,
To Taikang Terrace about 2.42km,
To Banyan Tree Spa about 2.42km,
To Zhongshan Road about 2.63km,
To Ferguson Lane about 2.76km,
To Jade Buddha Temple about 2.81km,
To Yuyuan Garden about 2.83km,
To Town god's temple about 2.87km,
To The Bund about 3.07km,
To The Norwegian Consulate General in Shanghai about 3.09km,
To Bund Sightseeing Tunnel about 3.2km,
To Shanghai Railway Station about 3.24km,
To Xin Qipu Market about 3.27km,
To Xing Wang Market about 3.31km,
To Russian Consulate General in Shanghai about 3.69km,
To Shiliupu Wharf about 3.77km,
To Super Brand Mall about 3.77km,
To Xujiahui about 3.84km,
To Gateway Plaza about 3.84km,
To Lupu Bridge Platform about 3.91km,
To Lujiazui Finance & Trade Zone about 3.92km,
To Oriental Pearl TV Tower about 4.08km,
To Old Shanghai Red Town about 4.47km,
To Yuyintang Live Music about 4.58km,
To Huangpu by night about 4.6km,
To Longhua Temple and Pagoda about 5.36km,
To Stadium Concerts about 5.69km,
To Argentina Shanghai Consulate about 5.87km,
To Shanghai International Exhibition Center about 5.93km,
To Consulate-General of Japan in Shanghai about 6.17km,
To Shanghaimart about 6.25km,
To Shanghai Everbright Convention & Exhibition Center about 6.79km,
To Consulate General of Switzerland about 7.05km,
To Science Tech. Museum about 7.48km,
To Asia Pacific Plaza about 7.7km,
To Hongmei Street about 7.83km,
To Shanghai South railway station about 8.17km,
To Pearl City Market about 8.19km,
To Shanghai New International Expo Centre (SNIEC) about 9.81km,
To Shanghai Hongqiao International Airport about 11.3km,
To Shanghai Hongqiao Railway Station about 13.8km,
To Waigaoqiao Free trade zone about 17.49km,
To National (Shanghai) Center for Exhibition and Convention NCEC about 21.97km,
To Formula 1 Race track Circuit about 26.56km,
To Shanghai Automobile Exhibition Center(SAEC) about 28.51km,
To Shanghai Pudong International Airport about 32.71km,
To Songjiang Mosque about 32.93km,

*** Clicking on the underlined words you can find other hotels close to the same landmark
Nearby Hotels (less than 3 km):
♦
Jinjiang Hotel shanghai

♦
Hotel Shanghai International Equatorial

♦
Shanghai Hotel

♦
Pudong Shangri-La Hotel, Shanghai

♦
An Ting Villa Hotel, Shanghai

♦
Broadway Mansions Hotel, Shanghai

♦
Fanyang Hotel, Shanghai

♦
Grand Hyatt, Shanghai

♦
Villas 1931 Hotel Shanghai

♦
Heng Sheng Peninsula International Hotel Shanghai

♦
Hilton Hotel, Shanghai

♦
Holiday Inn Downtown, Shanghai

♦
Howard Johnson Plaza Hotel, Shanghai

♦
Jiangtian Hotel, Shanghai

♦
Magnificent International Plaza & Hotel

♦
Donghu Hotel, Shanghai

♦
New Harbour Service Apartment, Shanghai

♦
Pine City Hotel, Shanghai

♦
Astor House Hotel(Pujiang Hotel, Shanghai)

♦
Ramada Plaza Hotel, Shanghai

The Shanghai Jinjiang Hotel is set off by two gardens and three European-style buildings. A truly elegant place to stay, the hotel is comprised of 515 well equipped for guest rooms that include both modern facilities and traditional furniture and decor. The hotel fills an area of about 30,000 square meters,of which 10,000 square meters are covered with green leisure areas, flowers, and trees. Since its inception in 1928, the hotel has received about 300 state leaders and government heads. Both local and international guests have long appreciated the hotel's incomparable personal service, convenient location, and beautiful setting. Distance from the airport ( Km ):14 Distance from the railway station ( Km ):3
Hotel Facilities:
Conference Room; Exhibition Hall; Business Centre; Coffee Shop; Bar; 3 Restaurant; Value Change; Playground Children; Baby Sitter; Swimming Pool; Jacuzzi, Fitness; Sauna ; Solarium; Beauty; Clinic; Massage; Steam Bath; Tennis; Handicap. Facilities;CreditCard; Ticket Agency; Shopping Arcade; Flower Shop ; Car Parking; Laundry Service
Room Description:
The 582 rooms of the hotel are well appointed, including the presidential suite with the unique paddock furniture inlaid with mother-in-pearl and the Luxurious suites with modern artistic decoration. You will feel relaxed and comfortable in our spacious rooms with elegant and traditional furnishings.The Shanghai Jiangong Jinjiang Hotel has 244 rooms, including standard rooms, standard suites, and deluxe suites. All rooms are equipped with central air-conditioning, private baths, color TV, IDD telephones and radio. The most alluring part of this hotel's facilities is its business services, providing all mod cons for the business traveler. There is a well facilitated Business Center, meeting rooms and a function room with audio/visual equipment. For recreation, guests may participate in a workout at the gym, a haircut in the beauty parlor, a relaxing game of billiards and singing at in the karaoke rooms. There are a few restaurants and bars in the Jiangong, most noticeably the Nanlin Restaurant serving various seafood dishes of local flavor, the Hujiangcun Restaurant offering a collection of Shanghai dishes and the lobby lounge available for coffee and other beverages.
Room Facilities:
air-conditioning, private baths, color TV, IDD telephones and radio.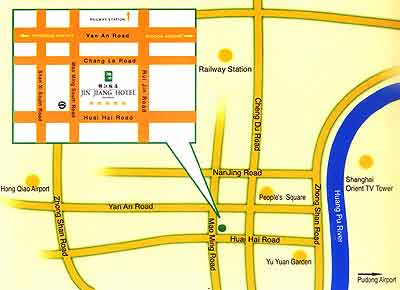 Mr. George***
Date: 2017-10-09
Nation: China
Type of room: Standard single
Travel for: others
Travel: alone
Amusements: 10
Location: 10
Welcoming & Kindness: 10
Employees qualities: 10
Breakfast: 10
Quality/Price Ratio: 10
Bathroom Functioning: 10
Bathroom Courtesy items: 9
Rooms Cleanliness: 10
Quietness: 10 Comfort: 10
Rooms Spaciousness: 10
Rooms Furnishings: 10
Mr. George***
Date: 2017-10-09
Nation: China
Type of room: Standard single
Travel for: others
Travel: alone
Amusements: 10
Location: 10
Welcoming & Kindness: 10
Employees qualities: 10
Breakfast: 10
Quality/Price Ratio: 10
Bathroom Functioning: 10
Bathroom Courtesy items: 9
Rooms Cleanliness: 10
Quietness: 10 Comfort: 10
Rooms Spaciousness: 10
Rooms Furnishings: 10
Mr. Farzan***
Date: 2011-09-18
Nation: United Kingdom
Type of room: Standard single
Travel for: others
Travel: with friends
Amusements: 9
Location: 8.8
Welcoming & Kindness: 10
Employees qualities: 9
Breakfast: 7.6
Quality/Price Ratio: 9
Bathroom Functioning: 10
Bathroom Courtesy items: 10
Rooms Cleanliness: 10
Quietness: 10 Comfort: 10
Rooms Spaciousness: 8.9
Rooms Furnishings: 10
Fabulous hotel aaaa