New West-lake Hotel, Shanghai: hotel in Shanghai China






The hotel's restaurant serves Chinese and Western dishes. There is also a fitness center. The rooms are comfortable and quiet, soundproofed and air-conditioned. The decor is very elegant, traditional-style Chinese. Each room also has sofa, minibar, cable TV, high speed internet.
Hotel Address:
No. 22, Lane 133, Mao Ming Road (S) Luwan District Shanghai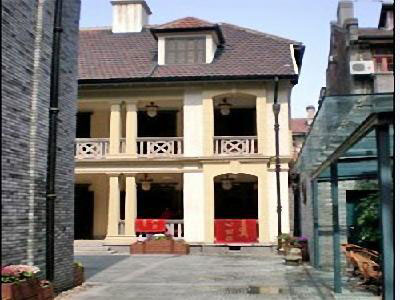 Hotel Room:
21
Season:
High Season , Low Season

Hotel Location:


Location in the city map
A small, cozy hotel (23 rooms) near the commercial area of Huaihai Road. The Metro is at 5 minutes walk (South Shaanxi Road Station). Some distances: 5-minute drive from People's Square, 5-minute drive from the Bund and Nanjing Road, 20-minute drive from Everbright Convention and Exhibition Center. 12 km from Hongqiao Airport, and 43 km from Pudong Airport.

See more pictures of New West-lake Hotel, Shanghai

Distance from landmarks:
To Nanjing Road about 0.63km,
To Jingan Temple about 0.63km,
To Huaihai Zhong Lu about 0.68km,
To Consulate General of Finland, Shanghai about 0.73km,
To Canadian Consulate General Shanghai about 0.9km,
To Paramount Party about 1.1km,
To Sogo Dep. Store about 1.32km,
To Xintiandi Nightlife about 1.42km,
To Shanghai Museum about 1.46km,
To Shanghai People's Square about 1.58km,
To Raffles Square about 1.73km,
To French Concession about 1.78km,
To Taikang Terrace about 2.08km,
To Banyan Tree Spa about 2.08km,
To Zhongshan Road about 2.32km,
To Jade Buddha Temple about 2.45km,
To Ferguson Lane about 2.84km,
To Shanghai Railway Station about 2.88km,
To Yuyuan Garden about 2.92km,
To Town god's temple about 3km,
To The Bund about 3.08km,
To Xin Qipu Market about 3.11km,
To The Norwegian Consulate General in Shanghai about 3.12km,
To Xing Wang Market about 3.15km,
To Bund Sightseeing Tunnel about 3.17km,
To Russian Consulate General in Shanghai about 3.6km,
To Super Brand Mall about 3.79km,
To Lujiazui Finance & Trade Zone about 3.94km,
To Shiliupu Wharf about 3.94km,
To Gateway Plaza about 4km,
To Xujiahui about 4.03km,
To Oriental Pearl TV Tower about 4.08km,
To Lupu Bridge Platform about 4.28km,
To Old Shanghai Red Town about 4.53km,
To Yuyintang Live Music about 4.53km,
To Huangpu by night about 4.6km,
To Stadium Concerts about 5.42km,
To Longhua Temple and Pagoda about 5.66km,
To Argentina Shanghai Consulate about 5.82km,
To Shanghai International Exhibition Center about 5.89km,
To Consulate-General of Japan in Shanghai about 6.13km,
To Shanghaimart about 6.22km,
To Consulate General of Switzerland about 6.97km,
To Shanghai Everbright Convention & Exhibition Center about 7km,
To Science Tech. Museum about 7.67km,
To Hongmei Street about 7.82km,
To Asia Pacific Plaza about 7.89km,
To Pearl City Market about 8.17km,
To Shanghai South railway station about 8.41km,
To Shanghai New International Expo Centre (SNIEC) about 10.02km,
To Shanghai Hongqiao International Airport about 11.23km,
To Shanghai Hongqiao Railway Station about 13.71km,
To Waigaoqiao Free trade zone about 17.47km,
To National (Shanghai) Center for Exhibition and Convention NCEC about 21.88km,
To Formula 1 Race track Circuit about 26.25km,
To Shanghai Automobile Exhibition Center(SAEC) about 28.27km,
To Shanghai Pudong International Airport about 32.97km,
To Songjiang Mosque about 33.06km,

*** Clicking on the underlined words you can find other hotels close to the same landmark
Nearby Hotels (less than 3 km):
♦
Jinjiang Hotel shanghai

♦
Hotel Shanghai International Equatorial

♦
Shanghai Hotel

♦
Pudong Shangri-La Hotel, Shanghai

♦
An Ting Villa Hotel, Shanghai

♦
Broadway Mansions Hotel, Shanghai

♦
Fanyang Hotel, Shanghai

♦
Grand Hyatt, Shanghai

♦
Villas 1931 Hotel Shanghai

♦
Heng Sheng Peninsula International Hotel Shanghai

♦
Hilton Hotel, Shanghai

♦
Holiday Inn Downtown, Shanghai

♦
Howard Johnson Plaza Hotel, Shanghai

♦
Magnificent International Plaza & Hotel

♦
Donghu Hotel, Shanghai

♦
New Harbour Service Apartment, Shanghai

♦
Pine City Hotel, Shanghai

♦
Astor House Hotel(Pujiang Hotel, Shanghai)

♦
Ramada Plaza Hotel, Shanghai

♦
Rendezvous Merry Hotel Shanghai

Find a tranquil respite amid a vibrant city while staying at Shanghai New-Westlake Hotel and enjoy a vacation unlike any other. Our boutique hotel in Luwan District promises an ambience distinctly above other five-star accommodations. The fusion of Oriental architecture and Western design concepts creates an atmosphere of stylish yet soothing charm. Inside the 20 well-appointed guestrooms, our restaurant, and the state-of-the-art meeting room, luxury and elegance abound. Moreover, our hotel in Shanghai boasts of a convenient location for both business and leisure travelers. Various transportation systems are in close proximity to our hotel, keeping you within minutes from famous attractions like The Bund, Xintiandi, and Nanjing Road.
Room Description:
Discover the private haven that is our Shanghai hotel. Booking our accommodation in Shanghai guarantees a vacation filled with serenity, even in the middle of the busy and bustling city. The 20 air-conditioned guestrooms at Luwan District's Shanghai New-Westlake Hotel are furnished with cable TV, a private toilet, and room safe. hair dryer is provided. Free broadband Internet access is afforded to guests. Breakfast buffet is available. These elegant comforts are offered together with superb personalized service to ensure an enjoyable stay at our Shanghai accommodation. We provide a wide array of options to meet your every lodging need, offering Superior Twin and Single Rooms, as well as Deluxe Twin and Executive Rooms. Each bequeaths an intimate space for two (2), and delightful diversions to complete your Shanghai getaway.