JiaSheng Century Hotel: hotel in Zhengzhou China






JiaSheng Century Hotel is located at West Zhengzhou. As a 4-star hotel, it is well equipped, elegantly decorated and is only 10 minutes to Zhengzhou Xiliu Lake and West Zhongyuan Road. 50 meters before the hotel there are Xingyang Stadium, Chess Park, and Liuyuxi Park; 20 meters before the hotel building it is the biggest botanical garden of Henan Province. (All the above mentioned scenic spots are visit for free)
Hotel Address:
NO.701 Zhengshang Road, Xingyang, Zhengzhou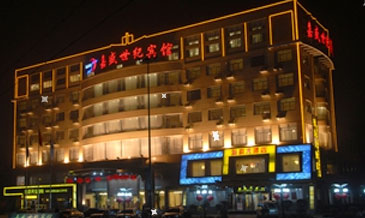 Hotel Room:
104
Season:
High Season , Low Season

Hotel Location:


Location in the city map
Distance from the airport: 80km Distance from Zhenzhou railway station: 30km Distance from the city center: 30km Distance from Hongxiang Shopping center: 4km

See more pictures of JiaSheng Century Hotel

Nearby Hotels (less than 3 km):
♦
JiaSheng Century Hotel

JiaSheng Century Hotel is located at West Zhengzhou. As a 4-star hotel, it is well equipped, elegantly decorated and is only 10 minutes to Zhengzhou Xiliu Lake and West Zhongyuan Road. 50 meters before the hotel there are Xingyang Stadium, Chess Park, and Liuyuxi Park; 20 meters before the hotel building it is the biggest botanical garden of Henan Province. (All the above mentioned scenic spots are visit for free) The hotel owns 112 guest rooms, among which there are 16 deluxe view rooms, 4 family suites, 4 deluxe suites, and more than 80 standard rooms. Besides, the hotel Chinese and Western restaurants which can hold 500 people, international conference center and multi-functional amusement hall which can hold 300 attendants, deluxe VIP conference hall which is available for 60 attendants, and the chess and poker hall which can hold 100 people are also available. The hotel unique environment and amazing low price make it an incomparable ideal place for accommodation.
Room Description:
The hotel has more than 112 guest rooms including deluxe suites, standard suites, deluxe standard rooms, standard rooms, and normal standard rooms which can meet different requirements of the guests. Being clean, cozy and convenient, it will make you feel at home when staying at the hotel. The guest rooms are all equipped with electronic key, central aircon, TV, IDD phone, DDD phone, internet access port, mini bar, etc.