Hong Kong's hotels are, quite simply, some of the very best in the world, offering a standard of service and a level of luxury that you just can't find anywhere else.
All the big international names are here and, for many of them, their Hong Kong branch is their flagship property and their brightest star. Some hotels are opulent, many are luxurious, and all are magnificent in their attention to detail and the services they provide.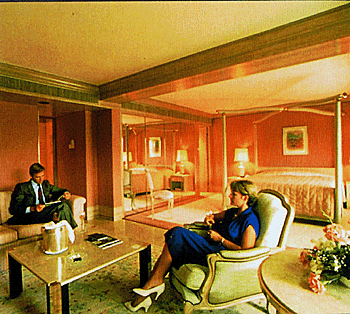 Depending which you choose, you'll find astonishing views of the harbour, some of the best Western and Chinese restaurants in Asia, and shopping arcades jammed with treasures, all right inside your hotel. Besides superb hotels, Hong Kong also offers a range of comfortable gnest-houses at more modest prices, so you can choose your accommoda- tion to suit your budget. All hotels and most guest- houses have air-conditioning and colour television in every room.
Rates range from US$8 to US$1, 000 per day so, whatever you want, Hong Kong has it for you. You'11 be surprised to find that you can stay longer than you thought. And one thing about everv Hong Kong hotel-you can walk from it to some of the best sights ana sounas and tastes and smells in the world. Because they're centrally located, right where the action is.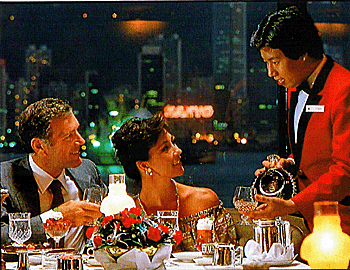 HongKong guide travel:
Hong Kong Hotel Guide
,
Entertainement ideas
,
Ancient Chinese customs in Hong Kong
,
Birds And Teahouses
,
Day trip to China and Macau
,
Day trip on Chinese border
,
Traditional shows
,
Events and festivals in Hong Kong
,
Conference and Meeting in Hong Kong
,
Transportation in Hong Kong
,
Glorious Cuisine and Dim Sun delicacies
,
Hong Kong by night
,
Great Eating in Hong Kong
,
Hotels: high level uf Luxury
,
Day trip to Macau
,
Charming of Hong Kong
,
Shopper's Paradise of Asia
,
Personalized itineraries
,
Some Hong Kong Highlights
,
Visit Hong Kong by Ferry or Junk Motor Boat
,
Highlights in Hong Kong
,
Tourist ways
,
Discover life of Hong Kong
,
Exotic world of Hong Kong
,
Sport activities in Hong Kong
,
Ingredients of Hong Kong fascination
Hong Kong: tours by pictures:
Concert Of Chinese Music
,
Dai Pai Dong
,
Dinner At Sea
,
Dinner At The Peak
,
Dragon Dance
,
Fortune Telling Bazaar
,
Lion Dance
,
Pirate Attack
,
Shopping
,
Transportation
,
Attractions in Hong Kong
,
Traditional arts
,
Sunset Cruise
,
Taipan Dance
,
Tram Tour At Twilight
,
Welcome Music
Main Cities in China Travel and China Hotels








Beijing

Canton

Shanghai

Hong Kong

Qingdao

Hangzhou
Major China Hotels:
Beijing Hotels
,
Chengdu Hotels
,
Chongqing Hotels
,
Dalian Hotels
,
Foshan Hotels
,
GuangZhou Hotels
,
Guilin Hotels
,
Hangzhou Hotels
,
Harbin Hotels
,
HongKong Hotels
,
Kunming Hotels
,
Macau Hotels
,
Nanjing Hotels
,
Qingdao Hotels
,
Sanya Hotels
,
Shanghai Hotels
,
Shenyang Hotels
,
Suzhou Hotels
,
Tianjin Hotels
,
Urumqi Hotels
,
Wenzhou Hotels
,
Xiamen Hotels
,
Xian Hotels