Visit Lantau Island ; sec the Buddhist and Trappist Monasteries, the old Ching Dynasty Fort, Slick Pik Reservoir and the beautiful beaches. Watch the sunrise from Lantau Peak . See Hong Kong 's only tea plantation. Have a vegetarian lunch. . Visit Cheung Chau, a fascinating fishing village and home of the famous Bun Festival (usually held in May) and sample seafood there.
. Explore Wing On Street (known as Cloth Lane)in Hong Kong Island's Central District whole street of the world's most exciting fabrics on display. Have clothes made by skilled Chinese tailors.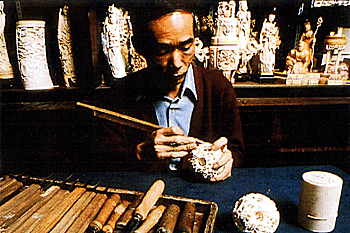 . Update your wardrobe with the latest fashion from factory outlets, at unbelievable prices.
. Visit the Jade Market on Kansu Street from 9 am to 4 pro and sec a grand collection of all shapes, qualities and colours of jade on sale.
. See the white pagoda and fascinating statues depicting scenes from Chinese legends in the Tiger Balm Gardens. Be ad- venturous-take a bus from Central or walk the short distance from Causeway Bay.
. For lunch, try 'dim sum' -you select your food from trolleys roving through the restaurant
. Visit Hong Kong's new HK$60 million Space Museum , which includes one of the largest and best equipped planetariums in the world. Enjoy a sky show.
. See where the local housewives shop for their daily food supplies. Visit the fresh produce markets in Central, Wanchai and Causeway Bay .
. Take the free bus from the Star Ferry, along Hong Kong 's newest expressway. to City Plaza shopping and entertainment complex in Taikoo Shing on the island s eastern waterfront. By Night
. Dine in a revolving restaurant for a spectacular view of Hong Kong. There are two to choose from-Juno, in Nathan Road, Kowloon, and La Ronda, atop the Furama Hotel in the Central District on Hong Kong Island. . Watch an excerpt from a Chinese opera.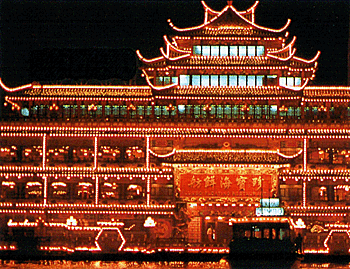 . Attend, cultural evening at the HongKong Arts Centre or at city Hall.
. Take an exciting ride by the world famous peak Tram (actually a funicular railway) straight up Victoria 1'cak for a panoramic night or day view of the most beautiful harbour in the world. Stay for dinner.
. Visit the "floating'' seafood restaurants at Shatin or Shum Wan in Aberdeen and select your meal, alive and swimming, from the fish tanks. . Enjoy Chinese classical performances in one of the restaurant-nightclubs.
. Have your fortune told with the aid of a small bird at Rumsey Street night market. . Sample the cuisines of Korea, Japan, Malaysia, Russia, Indonesia, India-or anywhere else-in our many restaurants.
. Discordance the night away in one of Hong Kong's top class nightspots near or in your hotel. . See a Kung Fu movie.
. Watch Hong Kong's skyline light un as you cruise around the harbour on a romantic water tour.
. Take a night tour of Hong Kong to discover the vibrant city life after dark. . Continue shopping until 9 or 10 p. m. in Causeway Bay on Hong Kong Island or Tsimshatsui in Kowloon.