Shangrao is located northeast of Jiangxi, with Mt Sanqing (first fairy peak south of the Yangtze River) in the east, Lake Poyang in the west, Mt Huanggang (first peak in East China) in the south and Wuyuan (most beautiful rural area in China) in the north. There are the Immortals' Cave (origin of the world rice), Ehu Academy of the Classical Learning, Guyang Opera, and home village of Zhu Xi, Zhan Tianyou and Fang Zhimin in the city.
Sanqingshan Scenic Area:
Also known as Mt Shaohua, Mt Sanqing, one of the Taoist holy places south of the Yangtze River, is located southeast of Jingdezhen. The mountain has queer pines and grotesque rocks with the natural scenery of Mt Huangshan and humane landscapes, such as Taoist abbey, horrific arches, palazzo, gate to the monastery and the palace.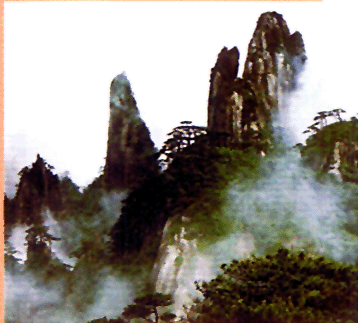 Wuyuan:
Located northeast of Jiangxi and being close to Mt Huangshan and Jingdezhen, Wuyuan is the home village of Zhu Xi and 2,600 officials with over 2000 works of the Song to Qing dynasties. Its ancient Architectural complexes, trees, caves and culture add radiance and beauty to its green mountain, blue water and rural sceneries. Wuyuan has become a cultural, ecological and tourist demonstration center of the state.
Protruding Python-shaped Rock:
Situated in the deep and secluded valley under the Yuhuang Top south of Mt Sanqing, a rock pillar with a height of 128 meters rises abruptly out of the ground 1,500 meters above sea level. It looks like a huge python that comes out of the mountain, rated as a miracle.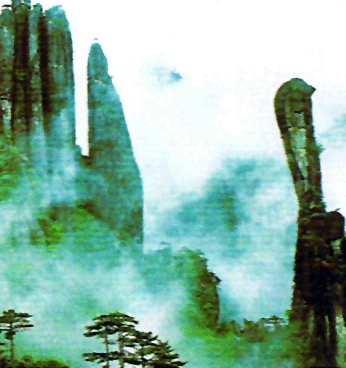 Guifeng Peak:
Located in Guyang County of Shangrao, the Guifeng Peak consists of three scenic areas. 1, the Guifeng Scenic Area with "36 small peaks and eight major scenic spots", 2, the huge rock sculpture culture park with the Nanyan Temple the first grotto south of the Yangtze River, as the mainstay; 3, the traditional culture and education area covers Fang Zhimin Memorial Hall, the Dieshan Academy and other humane landscapes.