The Jinhaitang Hotel (Jinhaitang Dajiudian) is located in the center of Leshan, not far from the world famous Leshan Giant Buddha.
Hotel Address:
Haitang Road (Haitang Lu), Shizhong District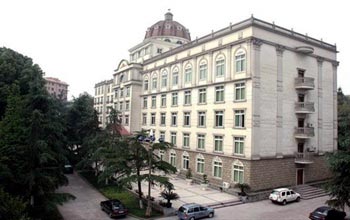 Hotel Room:

Season:
High Season , Low Season

Hotel Location:


Location in the city map
Exhibition Center/Stadium Grand Buddha Museum 2 km Park/Amusement Park/Attraction/Scenic Area Haitang Park 0.1 km Government Office/School/Hospital Leshan Normal University 0.5 km Downtown Tuoqiao Street 5 km

See more pictures of Jin Hai Tang Hotel - Leshan
The Jinhaitang Hotel (jinhaitang dajiudian) is located in the center of Leshan. It is not far from the world famous Giant Buddha. All the rooms within the hotel are equipped with central air-conditioning and mini bar. The hotel Chinese restaurant mainly serves Sichuan and Cantonese cuisine. There is also a western restaurant. For business meeting, the hotel multi function hall can hold up to 200 people. For recreation, there is a sauna center, beauty salon, night club and swimming pool.
Hotel Facilities:
Business center, Ticket office, Laundry service, Gift shop,
Room Description:
Room Facilities:
domestic direct-dial, International direct-dial,