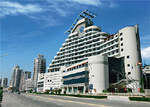 To Jiangxin Island 2.4km
Address: Sun Road, Oubei, Wenzhou City


. Wenzhou Mengjiang Hotel Co., Ltd, a luxury four-star tourist hotel with unique appearance style and fine surroundings, is located on the business centre district of Sunshine Road, Oubei, Wenzhou, adjacent to scenic spots of Nanxi River, Yandang Mountain and Jiangxin Island. As our hotel stands on the north bank of Oujiang River, the environment is superior, you can enjoy the convenient transportation and quietness in this noisy city. As a luxury cruise standing on Oujiang river.