Wenzhou Tiandu Hotel is state-owned sole enterprise approved by Wenzhou City People Goverment and under the command of Wenzhou City Grain Bureau. It is an exemplary hotel and has received many signs and awards for its excellent management. Tiandu Hotel has 138 different style guestrooms with elegant and exquisite decoration. The banquet hall of Chinese and foreign food restaurants can accommodate 900 guests at the same time.
Hotel Address:
No.99 Xing Hai Road, Wenzhou, Zhejiang, Post Code: 325005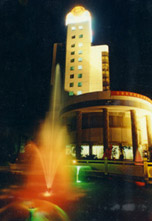 Hotel Room:
139 Rooms
Season:
High Season , Low Season

Hotel Location:


Location in the city map
to city center:2km, to railway station:5km, to airport:35km, surrounding landscapes:zoo, Miaoguo temple, Wenzhou costume market

See more pictures of Tian Du Hotel Wenzhou
Wenzhou Tiandu Hotel is state-owned sole enterprise approved by Wenzhou City People Goverment and under the command of Wenzhou City Grain Bureau. Tiandu is a comprehensive tourism hotel concerning foreign affairs; incorporating guest room; diet; entertainment; peace are central air-condition; satellite TV; national & international dail telephone; VCD system; bar and icebox in the room. IC computer management can let the formalities fast and easy. Our delicious food and favourable price are appreciated by our guests. Bangret hall and dining room and hold mor than goo prople. You can enjoy various entertainment and happiness in Tiandu; such as sauna; bowling; song and dance hall; KTV; beauty parlour; biuiard ball; electronic game; fives-court; table tennis; chess and cards. Tiandu lies in Wenzhou Xinghai West Road; near transit highway; and has transprot faciities. Also; the hotel has many kinds of meeting-room for your choise. From september 1997 till now; we are of good management statue within short time about one year. Our hotel achieves economic and social results. We are AAA Enterprise confered by Agricuture Bank of Zhejiang Rrovince; Zhejiang Province Excellent Tourison Hotel Concernibng Foreggn affairs confered by Zhejiang Province Tourism Bureau; Three Star Tourism Hotel Concerning Foreign Affairs evaluted by Country Tourism Bureau; '98 Serivce Quality Excellent Unit evalued by zhejiang Daily House and Province Consumer Association; First Choise Hotel when spending Hoidays in Zhejiang Province conforeded by Zhejiang Daiy House; Best Tourism Hotel confored by Wenzhou Tourism bureau; Tax Big Unit evaued by Wenzhou National Tax Bureau and local Tax Bureau; City Excellent Count Unit evaued by Wenzhou consumer Association; City Accountant standard unit evaluated by Wenzhou Finance Bureau; The Unit of care for children; Eager to Promote Pubict Utilitles confered by Wenzhou Culture Bureau; Health Advanced Unit confered by Wenzhou Patriotic Heath Sports Committee; Vice-president class Enterprise evaluated by Wenzhou Hotel Association; and so on.
Hotel Facilities:
Air Conditioning, Coffee Shop, Bar, Conference Room, Business Centre, Handicap Facilities, Credit Cards, Travel Service, Public Safe, Car Park, Currency Exchange, Shopping Arcade, Laundry Service, Domestic Direct Tel., Tennis Court, Ballroom, Karaoke, Massage, TV in Room, Tv in the Hall, Tv Games Centre, Beauty Centre.
Room Description:
Tiandu Hotel has 138 different style guestrooms(suits) with elegant and exquisite decoration and all that is necessary, such as central air-conditioning, satellite TV, telephone, minibar and cold storage cupboard.IC computerized management makes the check-in and check-out proced simple and prompt. Well trained attendants sincerely offer good service during your stay in hotel
Room Facilities:
Safe, Room Service, Fridge, Phone, Tv.