Located on Sanpan Island, the Golden Coast New Century Resort (Jin Hai'an Kaiyuan Dujiacun) is within 30 minutes of Dongtou County's most iconic attractions including Wanghai Pavilion, Zhongputuo Temple, Xiandieyan Scenic Spot, Haixia Military Theme Park and Banping Mountain.
Hotel Address:
288 Yangang Road (Yangang Lu), Sanpan Island, Dongtou County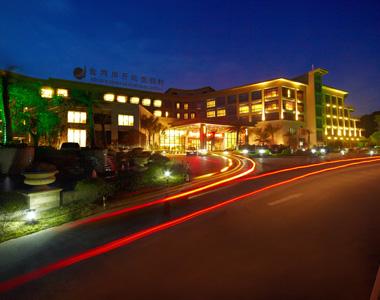 Hotel Room:

Season:
High Season , Low Season

Hotel Location:


Location in the city map
From the 50 minute drive from Wenzhou Yongqiang Airport, an hour drive of the Wenzhou Railway Station, a 1 hour drive from Wenzhou city

See more pictures of Wenzhou Golden Coast New Century Resort
Wenzhou Gold Coast Century Resort is an island resort built five-star standard. Located in Wenzhou Dongtou, a 50-minute drive from Wenzhou Yongqiang Airport, the Dongtou within the famous attractions in a 20-minute drive, and convenient transportation. The hotel has rooms of 256 seats more than 1,200, also has a 500 square meter grand ballroom, four meeting rooms of different sizes. Indoor and outdoor swimming pools, seaside sand beach, tennis courts, music bars, chess, foot massage pavilion, gymnasium and other sports and recreation facilities, and efforts to create a new East China leisure time and spac.
Hotel Facilities:
Meeting facilities, Currency exchange, Ticket office, Postal service, Laundry service, Handicapped friendly rooms, Front desk valuables safe, Bellman, Baggage deposit service, Morning call service, ATM, Free parking, Wifi internet in public areas, Complimentary tourism traffic map, Airport pickup service, Taxi calling service, Escalator/elevator,
Room Description:
New Century Hotel has various luxury rooms and suites, comfortable and elegant, with well-equipped facilities, combined with close but also surprising "New Century Hospitality", could definitely provide a warm and pleasant living environment for your business trips.
Room Facilities:
Central air conditioning, Slipper, Writing desk, Bathroom magnifying make-up mirrior, 24 hours hot water, Electric kettle, Tea/coffee pot, Complimentary bathroom amenities, Complimentary bottled water, Mini bar, Iron/ironing board, Mini refrigerator, Bathrobe, Multi-type electrical outlet, 110V electrical outlet, Separate shower room, Hair dryer, In-room safe, domestic direct-dial, International direct-dial,