Chengde Bailou Hotel: hotel in Chengde China





The Chengde Bailou Hotel is located in the Chengde High-Tech Industry Development Zone with a unique geographical position along Beijing-Chengde Tourist Road.
Hotel Address:
No. 28 Jingcheng Road, Chengde 067000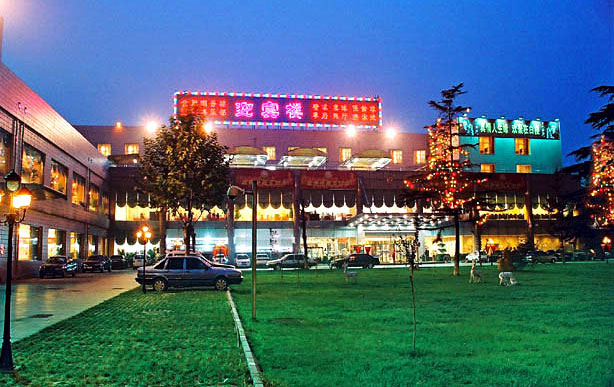 Hotel Room:
300 Rooms
Season:
High Season , Low Season

Hotel Location:


Location in the city map
to city cenrer:5km to railway station:5km

See more pictures of Chengde Bailou Hotel

The Bailou Hotel offers a beautiful scenery and clisp air. It is one of the most deluxe foreign hotels in Chengde. Located just beyond the hotel are beautiful mountains and green trees and in front of the hotel flows the mother river- Wulie River.
Hotel Facilities:
Laundry Business Center Bar/Lounge Beauty Salon Swimming Pool Restaurants in hotel Room service Meeting Rooms Conference facilities Coffee Shop Health Club Karaoke Dancing Hall
Room Description:
The Bai Lou Hotel offers 77 guest rooms including standard suites, King-sized suites, and deluxe suites. There are beautiful and elegant embellishments as well as warm sunshine in every room to provide guests with comfort and elegance.
Room Facilities:
Air conditioning Fridge Shoe Shine

Mr. alexan***
Date: 2012-08-15
Nation: China
Type of room: Standard double
Travel for: tourism
Travel: with partner
Amusements: 8
Location: 7
Welcoming & Kindness: 9
Employees qualities: 8
Breakfast: 8
Quality/Price Ratio: 7
Bathroom Functioning: 6.5
Bathroom Courtesy items: 7
Rooms Cleanliness: 7
Quietness: 8 Comfort: 6
Rooms Spaciousness: 6
Rooms Furnishings: 6
Chengde Bailou Hotel is outside the city centre so was very quiet and peaceful. The entrance was very grand, but the hallways and rooms were quite shabby and worn out. There is a wonderfully large swimming pool which we unfortunately couldn't use during our stay. The breakfast was reasonable (better than we had expected)and the staff were helpful. Since most of the hotels in Chengde are quite high in price at the weekend, this was a good choice for us for our one night stay.
Mr. MICHEL***
Date: 2010-08-25
Nation: France
Type of room: Standard double
Travel for: holiday
Travel: with family
Amusements: 5
Location: 5
Welcoming & Kindness: 9
Employees qualities: 9
Breakfast: 5
Quality/Price Ratio: 4.5
Bathroom Functioning: 4
Bathroom Courtesy items: 4
Rooms Cleanliness: 3
Quietness: 8 Comfort: 4
Rooms Spaciousness: 5
Rooms Furnishings: 4
Being in the annex building of the hotel our 2 rooms were relatively decrepit, which may not be the case in the main building (?). Dust was present in quantity below bedside table and bedhead, which is problematic for persons with asthmatic predisposition. Fitted carpet was really dirty. Tiny bathroom with shower very close to be straight above the toilets is not at all pleasant. On the other hand, we enjoyed the extreme kindness of desk personal, and professional behavior of one English-speaking person in particular whose first name is Kristina.