Dalian, a charming city famous for its blue skies and fresh sea breezes offers a new dimension of hospitality for business and leisure travelers.
Hotel Address:
No.123, Chang Jiang Road, Dalian, CN 116001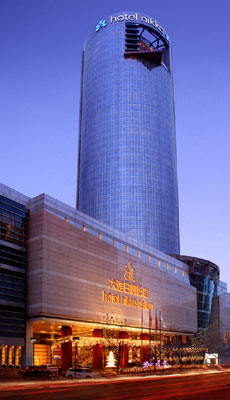 Hotel Room:
372 Rooms
Season:
High Season , Low Season

Hotel Location:


Location in the city map
The hotel is located downtown on Chang Jiang Road, one of the city's main roads, giving easy access to major office buildings, government offices and shopping centers. Within a short walking distance opposite the hotel entrance is the popular Tianjin Street, a mile long pedestrian shopping promenade. The Dalian International Exhibition and Conference Center takes about 20 minutes by limousine from the hotel.

See more pictures of Hotel Nikko Dalian
Dalian, a charming city famous for its blue skies and fresh sea breezes offers a new dimension of hospitality for business and leisure travelers. Towering 36 storeys above the city centre, Hotel Oriental Palace is a stunning example of contemporary design and modern luxury. Like every great work of art, Hotel Oriental Palace blends all the key elements harmoniously - deluxe accommodation, gracious hospitality and state-of-the-art facilities. Conveniently situated on Chang Jiang Road in the heart of Dalian, Hotel Oriental Palace is ideally located for business or pleasure. Recreational facilities include an extensive fitness center and spa, where guests can be pampered with a wide variety of therapeutic treatments, and have use of an indoor pool and tennis court. The extensive banquet and conference facilities can accommodate events for up to 1000 people, while 15 other meeting rooms are suitable for workshops and smaller meetings.
Hotel Facilities:
Multi-Lingual Staff, Laundry/Valet Service, Automated Teller (ATM), Baggage Storage, Barber Shop, Beauty Salon, Clothing Store, Concierge Desk, Elevators, Florist, Foreign Currency Exchange, Gift Shop, Guest Activity/Recreation Desk, Local Area Transportation, Lounge, Luggage Hold, News Stand, Safety Deposit Box, Tour Desk, Room Service, Audio/Visual Equipment Rental, Air Conditioning, Business Center, Business Phone Service, Complimentary Beverage, Connecting Rooms, Coffee Maker, Express Mail, vFax, Meeting Rooms, Mini Bar, Office Rental, Photo Copying Service, Printer, Secretarial Service, Typewriter, Fitness Room, Pool, Tennis Court, Internet Access
Room Description:
Hotel Oriental Palace Dalian, being the newest deluxe hotel in Dalian, forms part of the Chang Jiang Commercial Complex. This includes 372 luxuriously appointed rooms and suites, 168 residential apartments and a 27 story office tower. The Executive Floor provides a check-in, personal in-room fax, upgraded room amenities and butler service; and a Club Lounge offering daily breakfast, evening cocktails and free-flow coffee and tea.
Room Facilities:
Telephone, International Call, Air Conditioning, TV, Room Service
Miss MA.CRI***
Date: 2008-10-24
Nation: Philippines
Type of room: Standard single
Travel for: others
Travel: alone
Amusements: 10
Location: 10
Welcoming & Kindness: 10
Employees qualities: 10
Breakfast: 9.4
Quality/Price Ratio: 10
Bathroom Functioning: 10
Bathroom Courtesy items: 10
Rooms Cleanliness: 10
Quietness: 10 Comfort: 10
Rooms Spaciousness: 10
Rooms Furnishings: 10
no comments,im very satisfied for the accommodation you gave to me and thank you very much.