The ornamental traditional Chinese 5-star Jinling Resort Nanjing (Nanjing Hubin Jinling Fandian) is located on the outskirts of Nanjing in the serene Baijia Lake scenic area. Surrounded by the lake on three sides, the hotel boasts peaceful landscaping designed in the Chinese tradition of Fengshui and provides many lakeside areas for guests to relax and take in the view. With the opening of the Shengtai Rd station on Metro Line 1, the hotel has convenient access to the city center while remaining a great getaway from the bustle of modern life.
Hotel Address:
8 East Jiahu Road (Jiahu Dong Lu)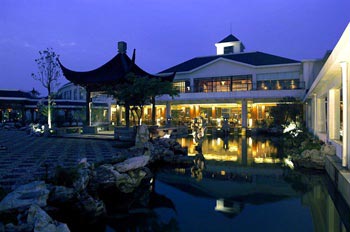 Hotel Room:

Season:
High Season , Low Season

Hotel Location:


Location in the city map
Railway Station Nanjing South Railway Station 9.1 km Railway Station Nanjing Railway Station 18.65 km Airport Nanjing Lukou International Airport 27.63 km Downtown Xinjiekou 14.07 km

See more pictures of Jinling Resort - Nanjing
The Jinling Resort Nanjing (Nanjing Hubin Jinling Fandian) is surrounded by Baijia Lake on three sides, a five-minute walk from the Baijiahu MTR Station of Line 1, to be open in mid 2010. This Nanjing hotel stays in harmony with natural scenery with a lovely garden and a fishing area.
Hotel Facilities:
Free parking, Gift shop, Beauty salon, Taxi calling service, Elevator N/A, Meeting facilities, Business center, Currency exchange, Ticket office, Laundry service,
Room Description:
Room Facilities:
Central air conditioning, Slipper, Writing desk, 24 hours hot water, Electric kettle, Separate shower room, Hair dryer, In-room safe, domestic direct-dial, International direct-dial,