'Ice and Snow World' in Harbin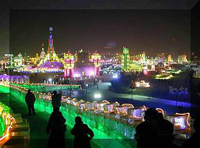 The annual Harbin International Ice and Snow Sculpture Festival has been held since 1963. It had been interrupted for a number of years during the Cultural Revolution until it was resumed in 1985.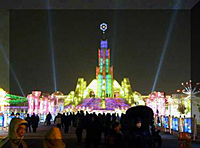 Harbin, the capital of Heilongjiang province of People's Republic of China, is one of the sources of Ice and Snow culture in the world. Geographically, it is located in Northeast China under the direct influence of the cold winter wind from Siberia. The average temperature in summer is 21.2 degrees Celsius, -16.8 degrees Celsius in winter. It can be as cold as - 38.1 degrees Celsius in winter.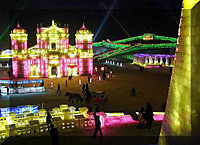 Officially, the festival starts from January 5th and it lasts one month. However often the exhibitions open earlier and last longer, weather permitting. Ice sculpture decoration ranges from the modern technology of lasers to traditional Ice Lanterns.There are Ice Lantern park touring activities held in many parks in the city. Winter activities in the festival include Yabuli alpine skiing, winter-swimming in Songhua River, and the Ice Lantern exhibition in Zhaolin Garden. Snow carving and Ice and Snow recreations are world famous.
The Harbin festival is one of the world's four largest Ice and Snow Festivals, along with Japan's Sapporo Snow Festival, Canada's Quebec City Winter Carnival, and Norway's Ski Festival.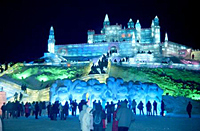 The 2007 festival featured the Canadian theme, in memoriam of Canadian doctor Norman Bethune. It also a Guinness Record of the largest snow sculpture: 250 metres long, 28 feet high, using over 13,000 cubic metres of snow. The composition consisted of two parts: "Niagara Falls" and "Crossing the Bering Strait" (the latter depicting the migration of the First Nations).