Chao Zhou Hotel, Chaozhou: hotel in Chaozhou China






The Chaozhou Hotel (Chaozhou Binguan) is located at the intersection of Yonghu Road and Chaofeng Road, in downtown Chaozhou. Just a 15-minute drive from the train station, around 40 minutes' from the airport and with many local attraction nearby, including Kaiyuan Temple, West Lake and Hanwengong Temple, this hotel is a great base for exploring everything the city has to offer.
Hotel Address:
No.1 Chaofeng Road, Jiangqiao District, Chaozhou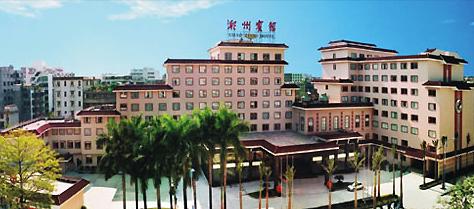 Hotel Room:

Season:
High Season , Low Season

Hotel Location:


Location in the city map


See more pictures of Chao Zhou Hotel, Chaozhou

Nearby Hotels (less than 3 km):
♦
Chao Zhou Hotel, Chaozhou

♦
Chaozhou Jinlong Hotel

♦
Chaozhou Guest Hotel

♦
Bao Hua Hotel - Chaozhou

Chaozhou Chaozhou City Hotel is a beautiful landscape. Simple, elegant, stretch, bold buildings, like the warmly welcoming all guests. Ancient and modern decoration, the penetration of our customers, such as the influx of people's earnest feeling, and fully reflects the prestigious hotels Chaozhou reputation. The four-star Chaozhou hotel, located in the downtown sections of major roads in Chaozhou Shi Zhongxin Road and Wing Chao Feng Road at the junction protection, Pilin City Xingzheng office, bus terminal, Chaozhou Xihu, Kaiyuan Temple, the bustling commercial center of the new pedestrian bridge, Location and convenient transportation. Hotel construction area of ​​19,000 square meters, buildings in luxurious style, rich and beautiful lobby, modern door, bringing a deep impression. The hotel has 221 superior rooms, business rooms, deluxe suites and Midland U.S. Huan Meilun executive suites, decorated fine, fully equipped, and with a large parking lot.
Hotel Facilities:

Room Description:
Mr. DOUGLA***
Date: 2015-12-02
Nation: United States
Type of room: Standard single
Travel for: business
Travel: alone
Amusements: 9
Location: 9
Welcoming & Kindness: 10
Employees qualities: 10
Breakfast: 3.5
Quality/Price Ratio: 3.5
Bathroom Functioning: 8
Bathroom Courtesy items: 9.5
Rooms Cleanliness: 9
Quietness: 7.5 Comfort: 10
Rooms Spaciousness: 10
Rooms Furnishings: 10
Nice Hotel, Large Room. Breakfast was not very good. Very accommodating staff, sight seeing nearby. Shower in bathroom had a significant leak that sprayed all over the toilet - it was clearly not a new leak and should have been repaired. Otherwise a nice stay and I would stay here again.
Mr. DOUGLA***
Date: 2015-11-01
Nation: United States
Type of room: Superior single
Travel for: business
Travel: with family
Amusements: 9
Location: 10
Welcoming & Kindness: 10
Employees qualities: 10
Breakfast: 7.5
Quality/Price Ratio: 9
Bathroom Functioning: 10
Bathroom Courtesy items: 7
Rooms Cleanliness: 8.5
Quietness: 7 Comfort: 10
Rooms Spaciousness: 10
Rooms Furnishings: 10
Pipe behind shower had a leak that sprayed all over the toilet - it has clearly been leaking for some time and should have been repaired long ago