China Yiwu City:
Yiwu
General Information:
Yiwu City, located in the center of Zhejiang Province, enjoys a history of more than 2000 years. It was upgrade from a county to a city in 1998. The comprehensive economic strength occupies the 47th position among Chinese cities in 1995. Yiwu was chosen as a provincial clean city and one of the excellent cities of comprehensive management in environment and public utilities.
The policy of "booming trade to construct the city" held by the local government improves the Yiwu's development. The city proper area is expanded from 2.8 square kilometers in 1984 to 15.2 square kilometers in 1998. A network of streets and highways in the city is established radiating to all directions. A framework of medium-sized city is formed already. With many parks built in Yiwu, the average area of green land per person is 11.03 square meters. The average living area per person of Yiwu is 21.5 square meters at present. The infrastructure condition of Yiwu is perfect. With the Zhegan Railway going through the city and the Yiwu Airport opening 16 flight lines, the city is a communications hub in the center of Zhejiang Province. Within 5 years in the future, Yiwu will be constructed to be a modernized city of medium size. You're warmly welcome to Yiwu for tour, trade and investment.
Geography:
At the eastern end of the Jin-Qu basin in central Zhejiang Province, 94 km (58 miles) south of Hangzhou.
Yiwu Map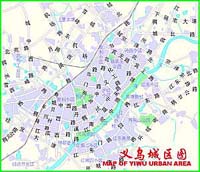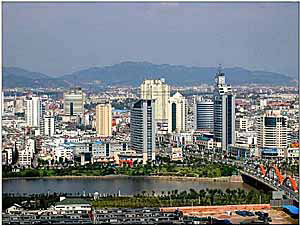 History:
YiWu first became a county in 2220 BC, and was given its present name in 624 AD. It achieved county-level city status in 1988. YiWu was ranked 47th in comprehensive economic strength of China's city-counties nationwide in 1995, and became Zhejiang's first city to undergo experimental comprehensive economic reform. It has jurisdiction over 15 towns and 8 villages, covering 1100 square kilometers, 15 of which are urban area. The Small Commodities Market in YiWu is famous throughout China.
Arrive:
Yiwu Airport (YIW)
ChinaHotelsReservation offers numerous flights to and from Yiwu Airport. Thousands of airlines and flight schedules providing you convenient flight times to and from Yiwu Airport. Yiwu Airport is located in Yiwu, China. With ChinaHotelsReservation, flying to your favorite Yiwu Airport destination is a simple mouse-click away.
Cuisine:
YiWu is well known for the "Three Big Treasures"; brown sugar, ham, and Nan dates. Local specialties are dried bean curd, Baizi wine, and Shanhua pears.
Yiwu Culture:
The beautiful natural landscapes of YiWu have inspired scholars and poets for centuries. The Shuanglinsi Temple is a sacred Buddhist place in Yunhuangshan Mountain. The YiWu and Dachen Rivers, Songpushan Roaring Waterfall, and 20 other summer resorts of lakes and springs attract tourists.