China Zhanjiang City:
Zhanjiang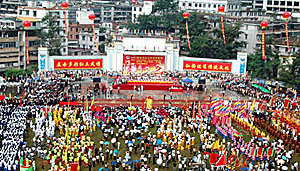 Geography:
Zhanjiang is located to the southwest of the city of Guangzhou on an inlet of the South China Sea. It is located on the eastern coast of the Leizhou Peninsula.
Zhanjiang Map

Climate:
It is not cold in winter and not hot in summer, like spring all the year around. The mean annual temperature in Zhanjiang is around 23¡ãC and the mean annual precipitation is around 147mm.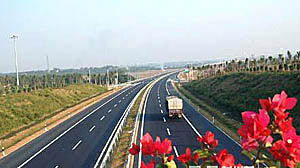 Zhanjiang Economy:
It is a seaport and trade center having many varied industries, including shipyards, textile plants, sugar refining, chemical, and electric power industries.
History:
Zhanjiang was a small fishing port when it was occupied by the French in 1898. The next year, the French forced the Chinese to lease Zhanjiang to them for 99 years. The French wanted to develop the port, which they called Fort Bayard, to serve southern China, in parts of which France had exclusive rights to railway and mineral development. Their efforts, however, were hindered by the poverty of the surrounding land. The French retained control of the region until 1943, when the Japanese occupied the area during World War II. The Japanese relinquished control to the Chinese in 1945.
Arrive:
Zhanjiang is connected with the outside world through Li-Zhan Railway and Sanshui-Maoming Railway, which link with the national main railways, No. 207 National Highway, No. 325 Highway, a 4D grade civil airport, over 20 flight lines and 100 flights weekly.
Zhanjiang Tourism:
Seaside tourism with unique characteristics. With lovely scenes, Zhanjiang has great potential to develop the tourism industry, which is particularly characterized by seawater, islands, beaches, sunshine and forest belts. Zhanjiang has developed two tourist and holiday resorts on provincial level, namely, Donghai Island and Jizhao Bay, and a number of tourist and holiday resorts on municipal level such as Nansan Island, Wuyang Golden Seashore and Xuwen Baisha Bay.
Zhanjiang Attractive points:
Lake View Rock
Lake View Rock, which is determined by the UN Earth Research Center as one of the two Maar lakes in the whole world, is a famous tourist and scenic area of Zhanjiang.