Cixi Hangzhou Bay International Hotel (CI XI International Hotel) is a four stars hotel which sets at the cradle of porcelain celadon-CI XI City, it is also the" hometown of waxberry" that the place XU FU was sail from.
Hotel Address:
No.625 Xincheng Avenue, Cixi city, Zhejiang

Hotel Room:
205 rooms
Season:
High Season , Low Season

Hotel Location:


Location in the city map
Traffic : away from airport: 70km, away CiXi railway station :7.5km, away city center: 1km. Surrounding landscape :CiXi broadcast and television, gymnasium, city executive city center building.

See more pictures of Cixi Hangzhou Bay International Hotel
The three-star Conch International Hotel Wuhu, five minutes by car from the railway station and 40 minutes from the airport, features a gym, a beauty salon and a sauna center. The 10-floor Conch International Hotel Wuhu has 208 guestrooms, all equipped with air-conditioning, an IDD telephone, a mini-bar, a safe and satellite television. For recreation, the hotel has a gym, a beauty salon and a sauna center. For business travelers, the hotel has a multi-function room, a business center and various meeting rooms.
Hotel Facilities:
31 Chinese Restaurants Guangdong, Chaozhou, Hangzhou and Ningbo Cusine 1 International Restaurant French, Italian Cusine, bar, Clinic, car park, Credit Cards, Baby Sitting, Karaoke, Saua, Gymnasium, Swimming, Mailbox, Flower, Disco, Facilities for disable
Room Description:
Hotel has 205 comfortable rooms(suite) of various kinds, having advanced equipment . it is decorated elegantly and fully furnished.Staly in the hotel and enjoy its elegance and romance. All of the rooms are fully booked on you requested
Room Facilities:
Room for the handicapped, Room Service, Safe box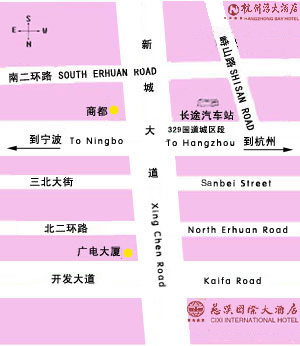 Mr. pertti***
Date: 2016-10-21
Nation: Finland
Type of room: Standard single
Travel for: business
Travel: alone
Amusements: 1
Location: 9
Welcoming & Kindness: 8.5
Employees qualities: 8.5
Breakfast: 9
Quality/Price Ratio: 9
Bathroom Functioning: 9
Bathroom Courtesy items: 7
Rooms Cleanliness: 8
Quietness: 9 Comfort: 8.5
Rooms Spaciousness: 8.5
Rooms Furnishings: 8.5
ok hotel with good breakfast and good price/quality relation.
Mr. Farshi***
Date: 2009-12-17
Nation: Iran
Type of room: Standard single
Travel for: business
Travel: alone
Amusements: 10
Location: 9
Welcoming & Kindness: 10
Employees qualities: 10
Breakfast: 9
Quality/Price Ratio: 10
Bathroom Functioning: 10
Bathroom Courtesy items: 10
Rooms Cleanliness: 10
Quietness: 10 Comfort: 10
Rooms Spaciousness: 10
Rooms Furnishings: 10
Very good hotel and very good service. If I go back to Cixi , I'll go to this hotel again. Your service is very good. Regards Farshid
Mr. Attila***
Date: 2009-10-27
Nation: Hungary
Type of room: Superior double
Travel for: business
Travel: with colleagues
Amusements: 4
Location: 8.8
Welcoming & Kindness: 9
Employees qualities: 8
Breakfast: 5.2
Quality/Price Ratio: 9
Bathroom Functioning: 8.4
Bathroom Courtesy items: 3
Rooms Cleanliness: 8.7
Quietness: 5 Comfort: 7
Rooms Spaciousness: 7.3
Rooms Furnishings: 9