Located in the busy commercial center of Cixi, the hotel is near to Coach Station. Established in January, 2001, the 6-storey hotel has 125 guestrooms and suites, equipped with free broadband internet.
Hotel Address:
Nanshi Road 1, Guanhaiwei Town, Cixi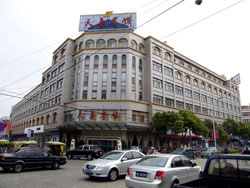 Hotel Room:
125
Season:
High Season , Low Season

Hotel Location:


Location in the city map
Tian Hua Hotel - Cixi Location & Transportation:- 19km to Wuleishan Resort; - 24km to Jiulongyuan Resort; - 550m to Guancheng Bus Station; - 46km to Ningbo North Railway Station; - 54km to Lishe Airport.

See more pictures of Cixi Tianhua Hotel