Designer Hotel, Dongguan: hotel in Dongguan China






Established in December, 2007, the hotel is located at the core of Dongcheng District in Dongguan. The hotel has 126 guestrooms and suites equipped with broadband internet, independent shower room and bath tub, private electric safe box, mini bar, electrical kettle, IDD, fax. Multifunctional conference room having a capacity of 100 persons is on 6th floor. 38 KTV boxes of different styles are on 2nd floor offer you characteristic services.
Hotel Address:
No.189, Dongzong Road, Dongcheng District, Dongguan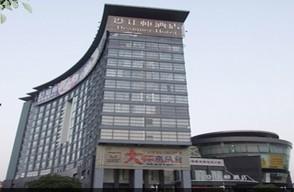 Hotel Room:
126 Rooms
Season:
High Season , Low Season

Hotel Location:


Location in the city map
2km from city center, 40km from Dongguan railway station, 60km from Shenzhen Bao'an International Airport, 3km from Dongguan International Exihibition Center, 80km from Guangzhou New Baiyun International Airport.

See more pictures of Designer Hotel, Dongguan

Nearby Hotels (less than 3 km):
♦
Yinfeng Garden Hotel,Dongguan

♦
Dongguan Hotel

♦
Huaxia Business Hotel, Dongguan

♦
Wanpan Hotel, Dongguan

♦
GreenTree Inn Dongguan Houjie Hotel

♦
Designer Hotel, Dongguan

♦
Dongguan new city hotel

♦
Oriental Hotel, Dongguan

♦
Class Hotel, Dongguan

♦
Dongguan Oriental Glory Business Hotel

♦
Dongguan Resort - Dongguan

♦
Grand Capital Hotel - Dongguan

♦
Dong Yue Hotel - Dongguan

♦
Hotel Ibis Dongcheng - Dongguan

The Designer Hotel (Dongguan Zhongqinglu Shangshui Shejishi Jiudian) is located at the intersection of East Dongcheng Road and Dongzong Avenue. This Dongguan hotel is handy to a food street, Walmart supermarket, Tianhong Shopping Mall and several banks. Guangzhou Baiyun airport and Shenzhen Bao'an International airport are both within 45 minutes driving distance. A chic hotel emphasizing sleek design, this tastefully decorated Dongguan hotel offers 23 themed rooms and suites including traditional "gondola" rooms, "cave" rooms and "landscape" rooms. All rooms are complete with broadband internet access, Western-style buffet breakfast and free domestic long distance calls. The rooftop garden provides excellent views of the city. This Dongguan hotel also encompasses a nightclub, a spa center, a sauna center, Chinese and Western restaurants and a multifunctional hall.
Room Description:
There are 123 exquisite guestrooms and suites of 23 different styles, with broadband, independent bathroom and bathtub, personal safe, mini bar, electric kettle, IDD and DDD telephone service and fax access, especially for business and reaction.
Mr. Michae***
Date: 2011-11-13
Nation: China
Type of room: Standard single
Travel for: others
Travel: alone
Amusements: 10
Location: 10
Welcoming & Kindness: 10
Employees qualities: 10
Breakfast: 10
Quality/Price Ratio: 10
Bathroom Functioning: 10
Bathroom Courtesy items: 10
Rooms Cleanliness: 10
Quietness: 10 Comfort: 10
Rooms Spaciousness: 10
Rooms Furnishings: 10
nice hotel and staff was kind, courteous and friendly. had an english speaking front desk clerk which helped.
Mr. Ilan S***
Date: 2011-04-17
Nation: Israel
Type of room: Standard single
Travel for: others
Travel: alone
Amusements: 7
Location: 6
Welcoming & Kindness: 8
Employees qualities: 7
Breakfast: 4
Quality/Price Ratio: 8.5
Bathroom Functioning: 7
Bathroom Courtesy items: 8
Rooms Cleanliness: 8.5
Quietness: 9 Comfort: 7.5
Rooms Spaciousness: 7.5
Rooms Furnishings: 8.8
The hotel is for chinees and not for foreners, the staff does not speek Englich No western food and only chinees brekfast, very dificult for foreners.
Mr. RUSLI ***
Date: 2010-10-22
Nation: Indonesia
Type of room: Standard double
Travel for: others
Travel: with friends
Amusements: 9
Location: 9
Welcoming & Kindness: 9.5
Employees qualities: 9.5
Breakfast: 7
Quality/Price Ratio: 8.5
Bathroom Functioning: 8.5
Bathroom Courtesy items: 8.5
Rooms Cleanliness: 8.5
Quietness: 9 Comfort: 8.5
Rooms Spaciousness: 8.5
Rooms Furnishings: 8.5