Royal Palace Hotel, Haining: hotel in Haining China







The Royal Palace Hotel is a 28-story business hotel in Haining. Dining options inclde Chinese, Western and Japanese cuisines. 15 private dining rooms are also available. The total dining capacity is over 1,000 people. In addition, this Haining hotel also has seven conference rooms equipped with advanced facilities.
Hotel Address:
No. 302 Haining Avenue, Haizhou Street, Haining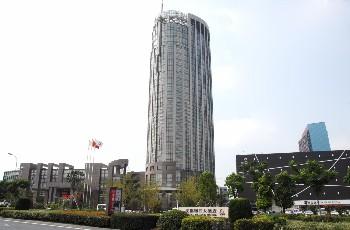 Hotel Room:

Season:
High Season , Low Season

Hotel Location:


Location in the city map
- 1-hr-drive to downtown Hangzhou; - 1-hr-drive to Xiaoshan Airport; - 1.5-hr-drive to downtown Shanghai.

See more pictures of Royal Palace Hotel, Haining

Nearby Hotels (less than 3 km):
♦
Haining Holiday International Hotel

♦
Royal Palace Hotel, Haining

♦
Haining Hongxiang Business Hotel

♦
Haining Hotel

♦
Champs Elysees Hotel - Haining

♦
Luxurious Quartz Hotel - Haining

Royal Palace Hotel is 5-star deluxe business hotel, covering 50,000 square meters and with 30 minutes' driving to the national 4A grade scenic spots. This 28-story hotel offers 303 rooms and suites, 6 restaurants holding 1,000 persons, 11 meeting rooms, etc. The hotel also has sauna, foot massage, KTV, SPA, beauty salon, gym, swimming pool, tennis court, billiard room, table tennis and other recreational facilities.
Room Description:
On offer are 201 rooms. A non-smoking floor is available for booking.