Hangzhou Huating Yunqi Resort Hotel: hotel in Hangzhou China







Hangzhou Huating Yunxi Holiday Hotel is established according to the 5 standard room of 5 star hotel. It is the combination of hotel, apartment, private meeting, and office.
Hotel Address:
No.1, South Meiling Road, West Lake District, Hangzhou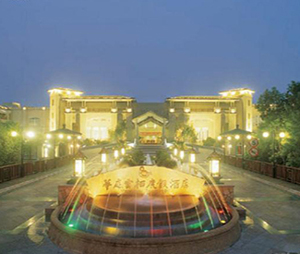 Hotel Room:
220 Rooms
Season:
High Season 4, 10, Low Season 2, 5, 6, 11, 12 1, 3, 7, 8, 9

Hotel Location:


Location in the city map
Away from airport:30km Away from Hangzhou train station:15km Away from city center:10km

See more pictures of Hangzhou Huating Yunqi Resort Hotel

Distance from landmarks:
To Hangzhou Liu He Pagoda about 3.91km,
To Hu Pao Meng Quan about 4.78km,
To Feilaifeng of Lingyin Temple in Hangzhou about 7.3km,
To Lei Feng Xi Zhao about 7.75km,
To Su Di Chun Xiao about 8.5km,
To Hangzhou Botanical Garden about 9.15km,
To Zhejiang Provincial Museum about 9.46km,
To Hangzhou Xixi national wetland park about 9.59km,
To Western Bus Station about 9.66km,
To He Fangjie Wushan Square about 10.25km,
To Hangzhou Huanglong Sports Center about 10.62km,
To Southern Bus Station about 10.82km,
To Zhejiang World Trade Center about 10.94km,
To Chengzhan Train Station about 11.1km,
To Si Ji Qing Clothing Market about 12.02km,
To Yan'an Road Wulin Square about 12.31km,
To Hangzhou World Leisure Expo Park about 14.18km,
To The Imperial Grand Canal about 14.2km,
To Hangzhou Peace International Conference & Exhibition Center about 14.78km,
To Eastern Bus Station about 15.19km,
To North Bus Station about 15.78km,
To East Railway Station about 16.81km,
To Zhejiang Sci Tech University about 29.22km,
To Hangzhou Xiaoshan International Airport about 33.23km,

*** Clicking on the underlined words you can find other hotels close to the same landmark
Hangzhou Huating Yunxi Resort Hotel is established according to the 5 standard room of 5 star hotel. It is the combination of hotel, apartment, private meeting, and office. The hotel is located at the country's tourist district of Hangzhou. It covers an area of 150 acres. It takes 15 minutes to drive to the city center. The hotel is near the Wuyun Mountain, Qiantang River, Meiwu Tea county, Yunxi Bamboo lane, Jiuxi Yanshu, Liuhe tower and LIngyi temple. There are beautiful scenery and fresh air.<br/><br/> The hotel owns elegant and unique restaurant, boxes and bars, in which you can enjoy food all over the world and have a nice time with business partners and friends. There are a sport center with complete facilities and comfortable environment: large swimming pool, tennis court, basketball court, heated indoor swimming pool, billiards, Shahu ball, table tennis, chess, beauty salons and other facilities. All of these can make relaxed both physically and mentally. The hotel makes it' s first appearance in 2005.
Room Description:
The hotel owns 220 rooms which are varied in size and 128 apartments. In terrace and corridor, you can enjoy the overview of surroundings. The spacious room can make relaxed both physically and mentally. Card, wireless internet services and other unique intelligent system embody the human concept of design, which can provide comfortable and convenient service. The fully equipped conference room has simultaneous translation service and other advanced digital conferencing systems. It is the ideal place for international and domestic conference. The hotel has elegant and different styles of restaurants and all kinds of bars and the boxes.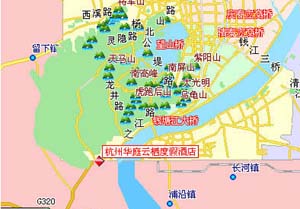 Mr. Colin ***
Date: 2015-08-01
Nation: United States
Type of room: Standard single
Travel for: tourism
Travel: with colleagues
Amusements: 10
Location: 10
Welcoming & Kindness: 9.5
Employees qualities: 9
Breakfast: 10
Quality/Price Ratio: 10
Bathroom Functioning: 10
Bathroom Courtesy items: 10
Rooms Cleanliness: 10
Quietness: 10 Comfort: 10
Rooms Spaciousness: 10
Rooms Furnishings: 10
Great location for where we were but not if you intend need to be near West Lake