The Easygo Business Hotel (Hangzhou Yigou Shangwu Jiudian) is located in north Hangzhou, near the Hangzhou International Convention and Exhibition Center and the North Bus Station. Xiaoshan International Airport is a 40-minute drive from the hotel.
Hotel Address:
No. 168 Huayuangang Street, Gongshu District, Hangzhou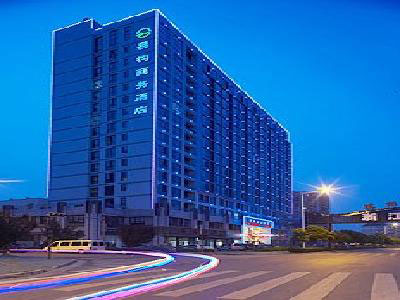 Hotel Room:
101
Season:
High Season , Low Season

Hotel Location:


Location in the city map
To downtown: 5km To Hangzhou Xiaoshan International Airport: 28km To Hangzhou Chengzhan Railway Station: 10km To Hangzhou East Railway Station: 10km

See more pictures of Hangzhou Yigou Business Hotel
Distance from landmarks:
To North Bus Station about 0.51km,
To The Imperial Grand Canal about 5.3km,
To Hangzhou Huanglong Sports Center about 6.3km,
To Zhejiang World Trade Center about 6.45km,
To Hangzhou Peace International Conference & Exhibition Center about 6.71km,
To Western Bus Station about 6.93km,
To Yan'an Road Wulin Square about 7.15km,
To Hangzhou Botanical Garden about 7.52km,
To Zhejiang Provincial Museum about 8.19km,
To Su Di Chun Xiao about 8.8km,
To Feilaifeng of Lingyin Temple in Hangzhou about 8.92km,
To Hangzhou Xixi national wetland park about 9.01km,
To Eastern Bus Station about 9.87km,
To East Railway Station about 9.9km,
To Lei Feng Xi Zhao about 10.32km,
To Chengzhan Train Station about 10.58km,
To He Fangjie Wushan Square about 10.67km,
To Si Ji Qing Clothing Market about 11.07km,
To Southern Bus Station about 11.73km,
To Hu Pao Meng Quan about 12.5km,
To Hangzhou Liu He Pagoda about 13.95km,
To Hangzhou World Leisure Expo Park about 21.96km,
To Zhejiang Sci Tech University about 23.23km,
To Hangzhou Xiaoshan International Airport about 32.35km,

*** Clicking on the underlined words you can find other hotels close to the same landmark
Nearby Hotels (less than 3 km):
♦
Communicacion Bussiness Hotel

♦
Hangzhou Ming Tai Business Hotel

♦
Haiwaihai International Hotel, Hangzhou

♦
Hangzhou Haiwaihai Nachuang Hotel

♦
Hangzhou Braim Canal Hotel

♦
WHWH-Hangzhou North Station

♦
Hangzhou Yigou Business Hotel

♦
Nade Hotel - Hangzhou

♦
Zhejiang Hangzhou Duhao Hotel

♦
Hangzhou Yi Rong Hotel

♦
Tailong Business Hotel - Hangzhou

Hangzhou Easygo Business Hotel is a luxury business hotel built according to four-star standard, integrating accommodation, catering and entertainment, located in the north of Hangzhou City, close to Hangzhou International Exhibition Center, Auto City and North Bus Station, only about 40 minutes' drive from the Hangzhou Xiaoshan International Airport, the transportation is very convenient. Opened in 2009.
Hotel Facilities:
, 24-hour front desk, Laundry, Room service, Parking, Meeting Rooms, Chess Room, Tennis, Ticket Service, Chinese Restaurant, Sightseeing Tour Desk, Fire Safety, Baggage storage
Room Description:
The hotel has a total of more than 100 different types of rooms, they are spacious and bright, warm and comfortable, equipped with digital televisions, Internet access and so on.
Room Facilities:
, Cable/satellite TV, Air conditioning, Private bathroom, Domestic Direct-dial phone, International Direct-dial phone, Desk, Bathroom-Private: Shower only, Table Lamp, 220AC, Slippers, Housekeeping, Hot and cold water