Located in Xiasha, Veegle Hotel is a 4-star hotel invested by Hangzhou Landison Tourism Group. It is only 15-minute-driving from Xiaoshan airport. Also, the hotel is close to Qiantang River. You could have a panoramic view of river and city in it.
Hotel Address:
No.301, No.27 Street, Economic and Technological Development Zone Hangzhou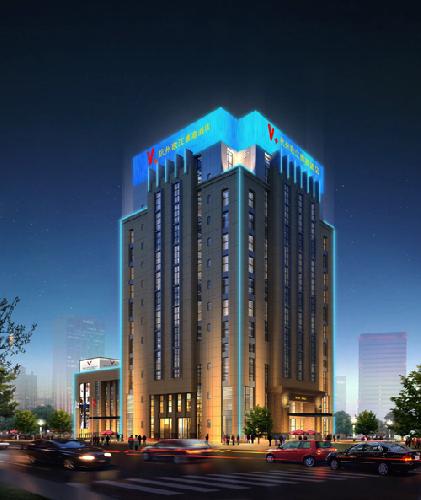 Hotel Room:

Season:
High Season , Low Season

Hotel Location:


Location in the city map
20 min. drive from Xiaoshan International Airport 3 min. drive from Xiasha Inner Ring Expressway

See more pictures of Veegle Hotel, Hangzhou
Distance from landmarks:
To Zhejiang Sci Tech University about 2.89km,
To Hangzhou Xiaoshan International Airport about 9.29km,
To East Railway Station about 16.76km,
To Eastern Bus Station about 17.7km,
To Si Ji Qing Clothing Market about 19.69km,
To Hangzhou Peace International Conference & Exhibition Center about 20.24km,
To Southern Bus Station about 20.63km,
To Chengzhan Train Station about 20.75km,
To Hangzhou World Leisure Expo Park about 21.35km,
To He Fangjie Wushan Square about 21.55km,
To Yan'an Road Wulin Square about 21.75km,
To The Imperial Grand Canal about 21.8km,
To Zhejiang World Trade Center about 23.95km,
To Zhejiang Provincial Museum about 24.06km,
To Lei Feng Xi Zhao about 24.46km,
To Hangzhou Huanglong Sports Center about 24.66km,
To Su Di Chun Xiao about 24.8km,
To Hangzhou Botanical Garden about 25.46km,
To North Bus Station about 26.3km,
To Hu Pao Meng Quan about 26.86km,
To Hangzhou Liu He Pagoda about 27.32km,
To Feilaifeng of Lingyin Temple in Hangzhou about 27.83km,
To Western Bus Station about 28.76km,
To Hangzhou Xixi national wetland park about 31.78km,

*** Clicking on the underlined words you can find other hotels close to the same landmark
Nearby Hotels (less than 3 km):
♦
Veegle Hotel, Hangzhou

♦
Super 8 Hotel Jinsha - Hangzhou

Veegle Hotel Gejiang Hangzhou, a 4-star hotel managed by Hangzhou Landison Tourism Group, is composed of 135 guest rooms in total including 13 executive floor rooms and 8 suites. The hotel boasts of a full range of meeting rooms and facilities that are advanced in 32 inch LCD TV, Fiber high speed internet and full-equipped office areas. The Executive Lounge on the 12th floor has an excellent location with unrivalled view of Qiantang River, a feast to eyes especially at night when looking afar, with those neon lights of the city seemingly integrated into the starry sky--- a dreamland indeed. Admirable also is the design of the Lounge that reflects grace and elegance in all transparent glass décor. You may enjoy the delicate afternoon tea while in business talks. Le Mistral Café and Lanting Lobby Bar provide varied delicacies as well as a place of leisure. Additionally, the Go-gental Ballroom has the capacity of 280 guests and available also are another 11 spacious and comfortable Chinese private rooms. Health & Leisure Centre takes you on a pleasant trip to the joy and relaxation.
Hotel Facilities:
Pick-up service, beauty salon, safe-deposit boxes, ATM banking, currency exchange, florist shop, ticket service, medicine service, public wireless Internet access etc.
Room Description:
135 guestrooms are provided, including 13 Executive Rooms, 7suites and 1 Veegle suite.
Room Facilities:
Ergonomic desk and chairs, Fiber high speed internet, In-room safe, 32 inch LCD TV, Bath robes, Hair dryer, Feather and Down duvet , Telephone, Voice mail, Digital TV channels , Tea and Coffee set, Mini bar and fridge
Restaurant:
Chinese restaurant, Western restaurant, lobby bar, cafe, tea room, Executive Lounge
Entertainment:
Karaoke room, video room, chess room, football, tennis courts, basketball, fitness room, massage room, SPA