Right in the heart of downtown beside the beautiful Xin'an River, and near the Huangshan Railway Station, the Huangshan Dragon Win Hotel (Huangshan Fuli Lanshan Jiudian) is 15 km (9.3 mi) from Huangshan Tunxi Airport.
Hotel Address:
90 South Qianyuan Road (Qianyuan Nan Lu)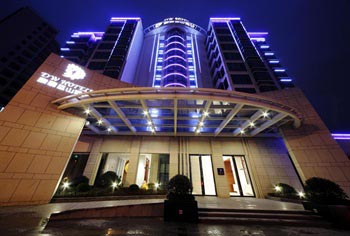 Hotel Room:

Season:
High Season , Low Season

Hotel Location:


Location in the city map
Railway Station Huangshan Railway Station 2 km Airport Huangshan Tunxi Airport 15 km Downtown Tunxi Old Street 3 km Bus Station/Dock/Port Tunxi Bus Station 7 km

See more pictures of Huangshan Fu Lai Blue Mountains Hotel
Located near downtown city and Huangshan Railway Station, beside the most beautiful Xin An river, the Huangshan Dragon Win Hotel (Huangshan Fuli Lanshan Jiudian) is 15 km from Huangshan Tunxi Airport. This hotel provides several rooms outfitted with modern amenities as well as LCD TVs, in-room safes and Wi-Fi. Fine dining restaurant offers an extraordinary gastronomic encounter, complemented by service and a setting of international calibre. "Blue" bar + restaurant, overlooking the Xin An river, specialises in contemporary cuisine served in relaxed style. The restaurant provides all day dining, while the "blue" bar for morning coffee, afternoon high teas and late evening cocktails. An extraordinary gastronomic encounter perfectly suited to hotel breadshop. Executive Chef Welles Wang renowned for his technically brilliant bakery cook takes your tastebuds on a journey with rich flavours subtly enhanced.
Hotel Facilities:
Ticket office, Laundry service, Front desk valuables safe, Bellman, Baggage deposit service, Morning call service, Free parking, Wifi internet in public areas, Complimentary tourism traffic map, Airport pickup service, Taxi calling service, Postal service, Escalator/elevator,
Room Description:
Room Facilities:
domestic direct-dial, International direct-dial, Central air conditioning, Slipper, Writing desk, Bathroom magnifying make-up mirrior, 24 hours hot water, Electric kettle, Tea/coffee pot, Complimentary bathroom amenities, Complimentary bottled water, Bathrobe, Multi-type electrical outlet, 110V electrical outlet, Separate shower room, Hair dryer, In-room safe,