Located in business and cultural center, the Jiaozuo Yiwan Hotel is only five-minute drive from Jiaozuo Railway Station. Zhengzhou Xinzheng Airport is 135 km away.
Hotel Address:
No.1225 Middle Mingzhu Road, Jiefang District, Jiaozuo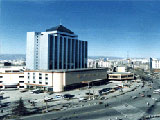 Hotel Room:
158
Season:
High Season , Low Season

Hotel Location:


Location in the city map
1km from Jiaozuo Railway Station; 2km from Long-distance bus Terminal; 2km from Oriental sunrise Square.

See more pictures of Jiaozuo Yiwan Hotel