Qingdao Sophia internation Hotel: hotel in Qingdao China






Sophia International Hotel Qingdao, situated on East Hong Kong Road, is a hotel of four-star standards.
Hotel Address:
NO.217 Hongkong East Road Qingdao city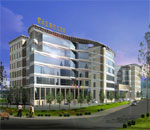 Hotel Room:
170 Rooms
Season:
High Season 旺季: 6-9月; 平季: 4-5月,10-12月, Low Season 淡季: 1-3月

Hotel Location:


Location in the city map
25km from the airport. 18km from the railway station. 11km from the city council. 0.2km from the beach. The view around: International beer city, international Convention and Exhibition Center, the bathing beach of Stone Old Man, international golf course.

See more pictures of Qingdao Sophia internation Hotel

Sophia International Hotel Qingdao, situated on East Hong Kong Road, is a hotel of four-star standards. It is a combination of accomodation, eating, entertainment and modern business. With modern facilities and good service, Sophia International Hotel is your ideal choice.
Hotel Facilities:
Business center bazaar Ticketing center Flower shopping Sauna Foreign currency exchange Safe box Health center Indoor swimming pool Beauty Salon Medicine Room The regular bus to airport
Room Description:
Sophia International Hotel Qingdao has 170 guest rooms, including Standard Single, City-view, Ocean-view, Executive, Deluxe Executive, Business Suite with city-view, Executive Suite. There are 20 guest room with kitchenettes. Each of them is equipped with air-conditioning, IDD, DDD, cable television, satellite television, CATV, safe box, mini-bar, etc.
Room Facilities:
BroadBand and Internet acess Cable/satellite TV Mini-Bar Hair dryer Electronic safe box 220v & 110v special socket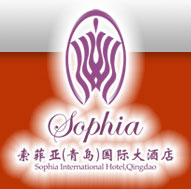 Mr. Pål E***
Date: 2012-05-23
Nation: Sweden
Type of room: Superior double
Travel for: others
Travel: with family
Amusements: 7
Location: 10
Welcoming & Kindness: 10
Employees qualities: 10
Breakfast: 5
Quality/Price Ratio: 10
Bathroom Functioning: 10
Bathroom Courtesy items: 10
Rooms Cleanliness: 10
Quietness: 10 Comfort: 10
Rooms Spaciousness: 10
Rooms Furnishings: 10
We are very happy whit Sophia. Some lack of English speak in staff but that was not a problem. Very friendly staff. I know that China do not need tourist but for us this was a good vacation All the best and thx for the help whit booking Pål whit family.
Mr. AL SAW***
Date: 2009-10-18
Nation: Saudi Arabia
Type of room: Standard single
Travel for: others
Travel: alone
Amusements: 10
Location: 8.8
Welcoming & Kindness: 10
Employees qualities: 10
Breakfast: 10
Quality/Price Ratio: 7.1
Bathroom Functioning: 9.6
Bathroom Courtesy items: 10
Rooms Cleanliness: 10
Quietness: 10 Comfort: 9.9
Rooms Spaciousness: 10
Rooms Furnishings: 9.4
the hotel is good but the Place far from the shopping and Price too high