Xi Mei Business Hotel ,Shijiazhuang: hotel in Shijiazhuang China






XIMEI Business Hotel is a subsidiary of XIMEI Group, situated in the most prosperous central shopping area in Shijiazhuang City, next to the city government and RenMin Square. It is the first luxury and intelligent four-star business hotel, designed by famous experts, built in accordance with the international hotel group standard, integrated with four-star guest room, five-star apartment, characterized cuisine, modern recreational facilities, intelligent business accommodation and upscale shopping.
Hotel Address:
NO.6 South Jianshe Avenue, Shijiazhuang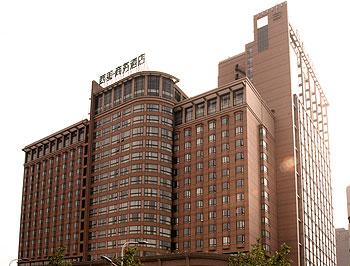 Hotel Room:
220 Rooms
Season:
High Season , Low Season

Hotel Location:


Location in the city map
Distance from the airport: 30km Distance from Shijiazhuang railway station: 2km Distance from downtown: 0.5km

See more pictures of Xi Mei Business Hotel ,Shijiazhuang

Nearby Hotels (less than 3 km):
♦
Shijiazhuang Zhongmao Haiyue Hotel(New building of Hebei Grand hotel )

♦
Hebei Century Hotel, Shijiazhuang

♦
World Trade Plaza Hotel Shijiazhuang

♦
Xi Mei Business Hotel ,Shijiazhuang

♦
Shijiazhuang Wanda Fashion Hotel

♦
Super 8 Hotel (Shijiazhuang Zhonghua north Street)

♦
Shijiazhuang Boer America boutique hotel

♦
Ambassador Hotel - Shijiazhuang

♦
Bailou Hotel - Shijiazhuang

♦
Jinyuan Mansion - Shijiazhuang

XIMEI Business hotel is a four star hotel located in Shijiazhuang' s CBD busiest commercial area, adjacent to the municipal government and People' s Plaza. As a apartment hotel equipped according to the 5-star standard, it has 166 well appointed deluxe guest rooms.The indoor decoration is in elegant style.The guest rooms is fully equipped with central air-conditioning, batbroom, mini-bar, closed-circuit TV, IDD phone, refrigerator, etc. Apart from that, the hotel VIP gymnasium, outdoor garden, swimming pool, sauna center, and the international conference hall are also available.
Room Description:
It has 386 guestrooms, including more than 220 executive rooms, royal rooms, and presidential suites, 166 apartment rooms, matched to the five-star hotel. The capacious room with its graceful and modern atmosphere, ingenious and humanity design as well as the service, all of which permeate in the subtle, will make you feel more respected and comfortable.
Restaurant:
Neptune Court is the top restaurant created by Shijiazhuang Ximei Group with large capital, which is of originality, great spirit and very post-modern Chinese cultural connotations. Super-large luxurious private room with 1500 square meters, excellent human nature installation and VIP-class close-fitting service allow you to experience superlative honor.

Lobby Bar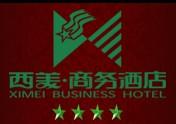 Mr. FRANCI***
Date: 2014-04-23
Nation: Nigeria
Type of room: Standard single
Travel for: others
Travel: alone
Amusements: 10
Location: 10
Welcoming & Kindness: 10
Employees qualities: 10
Breakfast: 10
Quality/Price Ratio: 10
Bathroom Functioning: 10
Bathroom Courtesy items: 10
Rooms Cleanliness: 10
Quietness: 10 Comfort: 10
Rooms Spaciousness: 10
Rooms Furnishings: 10
Thanks for giving me this opportunity to express my gratitude to the staff and management of ximei businesses hotel for their hospitality to me while I was their heir guest. Even with the language barrier they made sure that I was satisfied each time I needed their assistant. However I will like to see some improvement on the rooms. There should be heathers in the rooms considering the facts that the weather most times can be too cooled for foreigners which was the case with me. And the rugs in the rooms are old and should be changed. My room was Room805 and Room 809.
Miss Manatc***
Date: 2009-09-19
Nation: Thailand
Type of room: Superior single
Travel for: business
Travel: with family
Amusements: 8
Location: 10
Welcoming & Kindness: 9
Employees qualities: 9
Breakfast: 9.5
Quality/Price Ratio: 9.5
Bathroom Functioning: 9
Bathroom Courtesy items: 9
Rooms Cleanliness: 10
Quietness: 9.5 Comfort: 10
Rooms Spaciousness: 10
Rooms Furnishings: 10
good hotel. good room and service... good breakfast ,too will come again
Mr. John L***
Date: 2009-08-20
Nation: Canada
Type of room: Standard double
Travel for: others
Travel: with partner
Amusements: 10
Location: 10
Welcoming & Kindness: 10
Employees qualities: 10
Breakfast: 10
Quality/Price Ratio: 10
Bathroom Functioning: 10
Bathroom Courtesy items: 10
Rooms Cleanliness: 10
Quietness: 10 Comfort: 10
Rooms Spaciousness: 10
Rooms Furnishings: 10
Xi Mei Business Hotel is well located and first class in every way. Would recommend it to anyone. The service given by Chinahotels reservation was as always excellent. Thank You