Guangming Garden Hotel, Weihai: hotel in Weihai China






Hotel Address:
No.25 WenHua East Road WeiHai, Shandong Province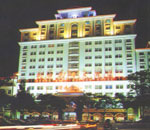 Hotel Room:
131
Season:
High Season 7, 8月, 10.1-5, Low Season

Hotel Location:


Location in the city map
20KM to the Airport 9KM to the WeiHai Railway Station 0KM to the city center

See more pictures of Guangming Garden Hotel, Weihai
Hotel Video:


Nearby Hotels (less than 3 km):
♦
Weihaiwei Hotel

♦
White Swan Hotel

♦
Causeway Day Hotel

♦
Weihai International Business Building

♦
Heqing Hotel, Weihai

♦
Guangming Garden Hotel, Weihai

♦
Weihai Qiming Jiari Hotel

♦
Super 8 Hotel Weihai Bund

♦
Weihai Golden Coast Hotel

♦
Jing Yuan Business Hotel - Weihai

♦
Weihai Hotel

♦
Weihai Baiyun Hotel

Guangming Garden Hotel is located in the center of downtown. The surroundings are peaceful and the service is friendly. The 14-floor hotel has 129 rooms and suites, with a standard room measuring 28 square meters. There is a well-equipped business center and there are variously sized function rooms for conferences and meetings. Other facilities including a sauna and massage center, shops and ticket reservation desk.
Room Description:
The guest rooms are comfortable and cozy. There is broadband internet access in each room. There is also satellite and cable TV, international and domestic phone call service, central air-conditioning, 24-hour hot water and coffee/tea, and room safe. Room service, laundry and shoeshine are available, as well, to assist in looking sharp for those important events.
Restaurant:
There are 18 elegant and well-appointed banquet rooms with different styles. This extensive meeting space is a beautiful and luxurious environment in which to hold any banquet or meeting. With our inventive culinary policy, our hotel offers an exceptionally excellent and innovative cuisine. One can enjoy a selection of famous dishes ranging from bird's nest, sea cucumber, abalone, shark's fin, spicy barbeque and seafood, all featuring the local, Jiaodong flavor. Classical well-known dishes in different cuisines are also available. With "green and healthy" as the main theme, our cuisine tastes fresh and light-flavored. You can enjoy a deluxe or superior restaurant and banqueting service at a fair price. We lead the catering trend in Weihai.