Yidu Jinling Grand Hotel, Yancheng: hotel in Yancheng China







The hotel owns following first-class service facilities: 800 square meters banquet hall, 9 international centers which have different scale of conference rooms, 14 fashionable restaurant, fitness center, green leisure square. It is the ideal choice for all kinds of conference, High-end business activities, and grand banquet. The delicate service and pure context of delicious food can provide you respectable and pleasure enjoyment.
Hotel Address:
No.603, century road, new district, Yanduo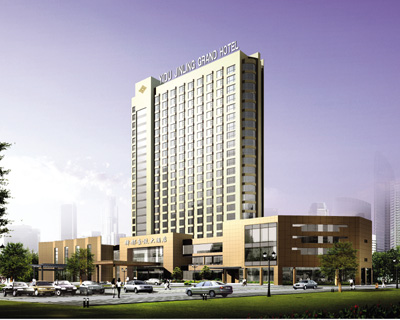 Hotel Room:
346 Rooms
Season:
High Season , Low Season

Hotel Location:


Location in the city map
Away from airport: 13Km Away from Yancheng train station: 6Km Away from city center: 6Km Surroundings: Yandu Park, century Park, Bihuali golf court, Urban Planning Exhibition Hall

See more pictures of Yidu Jinling Grand Hotel, Yancheng

Nearby Hotels (less than 3 km):
♦
Yidu Jinling Grand Hotel, Yancheng

Yiduo jingli hotel is managed by Nanjing Jinling hotel Management Company. It is located at nearby area of Yancheng government building and the exit of Nanjing express way and Huning express way. Yiduo jingli hotel is designed and built according to the international five star hotel. It is located at Wetland capital and inside the Shuilu Yancheng of Yancheng development zone. It is convenient to airport, train station, bus station. The hotel owns 346rooms, 800 square meters Banquet hall, 9 international centers which have different scale of conference rooms, repast, fitness center, entertainment center, shopping malls and other supporting facilities. It is a perfect place for you to welcome business VIP, appreciate delicious meal, hold conference and forum enjoy beautiful scenery and experience impeccable touch.
Room Description:
The hotel owns 346 deluxe rooms which is located between 4 and 22 floor of the building. It is designed for modern businessman. The hotel has 1 presidential suite, 2 executive suites, 8 deluxe suites, 32 executive suites, 31 deluxe rooms and 272 senior rooms. Rooms are equipped with an independent central air-conditioning, satellite TV, international telephone, fax, Internet telephone, mini-bar, refrigerator, hair dryer, electronic safes, iron ironing board, pajamas, shoe-shining cloth, mineral water, and we can provide meals which is delivered into room services.