Jiangsu HuaiZuo MingDu Nations Hotel: hotel in Yangzhou China






Huaizuo Mingdu Nations Hotel (Huaizuo Mingdu Guoji Dajiudian) is a business hotel located on Hanjiang Zhong Lu, close to the bus center.
Hotel Address:
No.158 Middle Hanjiang Road, Yangzhou, Jiangsu Province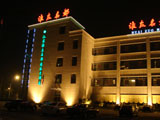 Hotel Room:
116
Season:
High Season , Low Season

Hotel Location:


Location in the city map
5 km from the Yangzhou Railway Station, it takes about 10 minutes and 15RMB by taxi. 5 km from the Wenchang Pavilion. Bus: 5 minutes walk to the bus station. Taxi: taxi service.

See more pictures of Jiangsu HuaiZuo MingDu Nations Hotel

HuaiZuo MingDu Nations Hotel is a business hotel, located on the Hanjiang Middle Road, close to bus station. It offers various rooms, 2 banquet halls holding 230-600 persons and 40 dining boxes with 1,386 seats. Other hotel facilities include meeting rooms, gym, business center, beauty salon, bar and shop.
Room Description:
The hotel offers single rooms, business rooms, suites etc. There are two banquet halls and 40 private dining rooms. A multifunctional hall, conference rooms and a bar are also available.