Shanshui Fashion Hotel, Zhaoqing: hotel in Zhaoqing China






.
Hotel Address:
No. 36, North Xijiang Road, Duanzhou District, Zhaoqing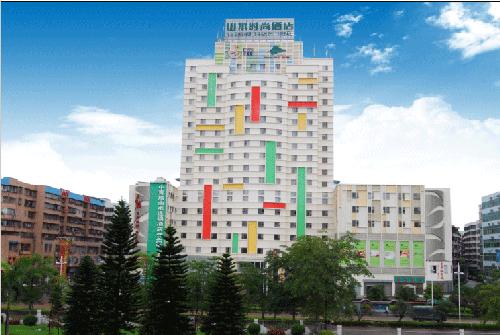 Hotel Room:
207Rooms
Season:
High Season , Low Season

Hotel Location:


Location in the city map
Distance from the city center: 1km Distance from Zhaoqing railway station: 1km Distance from the adjacent business area: 1km

See more pictures of Shanshui Fashion Hotel, Zhaoqing

.
Room Description:
.
Mr. FRANCI***
Date: 2011-10-09
Nation: French
Type of room: Superior double
Travel for: others
Travel: with partner
Amusements: 7
Location: 7
Welcoming & Kindness: 9
Employees qualities: 9
Breakfast: 9
Quality/Price Ratio: 8
Bathroom Functioning: 9
Bathroom Courtesy items: 9
Rooms Cleanliness: 8
Quietness: 6 Comfort: 7
Rooms Spaciousness: 10
Rooms Furnishings: 7
The room and the hotel are ok. The room was noisy because they were doing some works in front of the hotel and noboby told us.
Miss Yew Yo***
Date: 2011-09-19
Nation: Malaysia
Type of room: Standard double
Travel for: holiday
Travel: with friends
Amusements: 9
Location: 9
Welcoming & Kindness: 8
Employees qualities: 8
Breakfast: 10
Quality/Price Ratio: 9
Bathroom Functioning: 9
Bathroom Courtesy items: 9
Rooms Cleanliness: 9
Quietness: 9 Comfort: 9
Rooms Spaciousness: 9
Rooms Furnishings: 9
Mr. luis c***
Date: 2008-07-21
Nation: spain
Type of room: Suite
Travel for: holiday
Travel: with family
Amusements: 7
Location: 8
Welcoming & Kindness: 10
Employees qualities: 10
Breakfast: 8
Quality/Price Ratio: 10
Bathroom Functioning: 10
Bathroom Courtesy items: 9
Rooms Cleanliness: 10
Quietness: 10 Comfort: 10
Rooms Spaciousness: 10
Rooms Furnishings: 9
much more better than some 5 star hotels in china