It is located near the entrance to the express way linking Zhengzhou City and the airport. The 3-star Zhongdu Hotel offers good access for those wishing to get away, located just 30kms from the airport and 6kms from the city center. A taxi ride to the center of town will cost you about RMB15.
Hotel Address:
No.99 Hanghai Road Zhengzhou 450005, China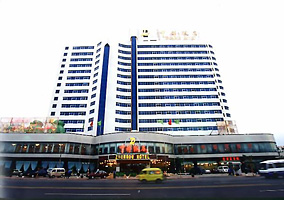 Hotel Room:
300 Rooms
Season:
High Season , Low Season

Hotel Location:


Location in the city map
The Zhongdu Hotel is located 39.8 kilometers from the airport. 5.1kms to the railway station.

See more pictures of Zhong Du Hotel, Zhengzhou
The four-star Zhong Du Hotel, a 15-minute drive from the city center and 40 minutes from the airport, features an Old Nanjing Snacks Stand and a karaoke bar. The 17-floor Zhong Du Hotel has 260 well appointed guest rooms; standard rooms measure 20 square meters. The hotel offers a wide range of eateries, including the Old Nanjing Snacks Stand, the Tulip Bar and several Chinese restaurants. Our business center provides basic secretarial services and various meeting rooms. Location The Zhongdu Hotel is located 30 kilometers from the airport. 3kms to the railway station. For dining, the hotel serves Cantonese and Hunan cuisine (Peach Flower Garden Restaurant), hotpot buffet (Lily Garden Restaurant) and Jiangsu cuisine (Old Nanking Restaurant). The Tulip Lobby Lounge serves drinks. The business center offers Fax, ticket booking and some local tour arrangement services.
Hotel Facilities:
Air Conditioning, Baby-sitting, Beauty Salon, Coffee Shop, Conference Room, Money Exchange, Refrigerator, Swimming Pool, Refrigerator, Business Center, Bar & Lounge, Cable TV, IDD, Hair-dryer in the Bedroom, Laundry Service, Shopping Arcade, Min-Bar, Tea/Coffee Boiling Pot
Room Description:
The Zhongdu offers a total of 300 rooms of all sizes and types, from the ordinary standard rooms to the luxurious presidential suites. All rooms include a private bath, central air-conditioning and satellite TV.
Room Facilities:
Telephone, International Call, Air Conditioning, TV, Room Service