The Narada Resort & Spa Liangzhu(Hangzhou Bailuwan Junlan Dujia Jiudian) is a holiday hotel located in the tourist town "Liangzhu Cultural Village" in Hangzhou. The local environment is a combination of greenbelt and plain.
Hotel Address:
Liangzhu Culture Country, Yuhang District, Hangzhou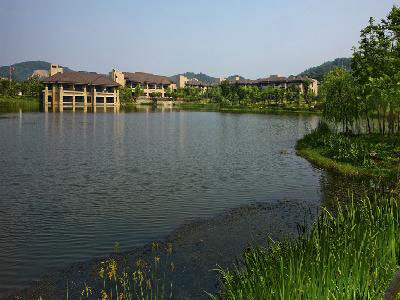 Hotel Room:
312
Season:
High Season , Low Season

Hotel Location:


Location in the city map
To Downtown: about 40 minutes driving; To Hangzhou Railway Station: about 60 minutes driving; To Hangzhou Xiaoshan International Airport: about 120 minutes driving.

See more pictures of Bailuwan Junlandujia Hotel, hangzhou
Distance from landmarks:
To Zhejiang Sci Tech University about 12.96km,
To East Railway Station about 16.58km,
To Eastern Bus Station about 18.26km,
To Hangzhou Peace International Conference & Exhibition Center about 18.58km,
To The Imperial Grand Canal about 19.5km,
To Yan'an Road Wulin Square about 21.01km,
To North Bus Station about 21.24km,
To Si Ji Qing Clothing Market about 21.73km,
To Chengzhan Train Station about 22.43km,
To Zhejiang World Trade Center about 22.77km,
To Southern Bus Station about 23.09km,
To He Fangjie Wushan Square about 23.25km,
To Hangzhou Huanglong Sports Center about 23.3km,
To Zhejiang Provincial Museum about 23.92km,
To Hangzhou Xiaoshan International Airport about 24.37km,
To Hangzhou Botanical Garden about 24.68km,
To Su Di Chun Xiao about 24.89km,
To Lei Feng Xi Zhao about 25.5km,
To Western Bus Station about 26.56km,
To Feilaifeng of Lingyin Temple in Hangzhou about 27.15km,
To Hu Pao Meng Quan about 28.48km,
To Hangzhou Xixi national wetland park about 29.31km,
To Hangzhou World Leisure Expo Park about 29.54km,
To Hangzhou Liu He Pagoda about 29.58km,

*** Clicking on the underlined words you can find other hotels close to the same landmark
Hangzhou Aigrette Resort is a five-star international hotel. It covers a large land area. It is simple and elegant. The hotel features a country yard. Hangzhou Aigrette Resort is adjacent to the artificial lake of the hotel. People here can enjoy the natural atmosphere and a leisure vacation. The restaurant can hold 1000 guests in all. The grand multi-functional hall is suitable for holding various meetings. Opened in 2007.
Hotel Facilities:
, 24-hour front desk, Bar/Lounge, Business Center, Beauty Salon, Sauna, Restaurants in hotel, Meeting Rooms, Coffee Shop, Chess Room, Massage (Foot/Traditional/etc.), Squash, Chinese Restaurant, Fitness Centre, Air-conditioned Public Areas, Shared Bathroom, BBQ Area
Room Description:
The hotel provides a total of 312 classical guest rooms with comfortable environment and full facilities.
Room Facilities:
, Cable/satellite TV, Air conditioning, Private bathroom, Domestic Direct-dial phone, International Direct-dial phone, Wake-up calls, Table Lamp, 220AC, Slippers, Bedside Light