Located in Macau next to the Penha Church, A-Ma Temple as well as the city center.
Hotel Address:
Rua Comendador Kou Ho Neng, Macau7-13 Number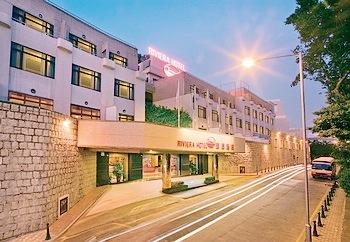 Hotel Room:

Season:
High Season , Low Season

Hotel Location:


Location in the city map
The Hotel Ritz offers the best location in Macau, right next door to the popular Penha Church, A-Ma Temple as well as the city center. Taking only 5-minutes to reach the Bank of China Building and Lisboa Casino.

See more pictures of Hotel Riviera Macau
Situated amidst the breathtaking Penha Hill overlooking the Praia Grande Bay and the Macau Taipa Bridge, the Hotel offers the best location in Macau right next door to the Penha Church, A-Ma Temple as well as the city center. The Rainbow Room is a multi-functional venue best for business conferences, cocktail parties and large banquets. The well-equipped Business Center provides full office set up including Internet access, secretarial service, photocopying, personal computer and facsimile.
Hotel Facilities:
Air-Conditioned, Business Centre, Shopping Arcade, Out-door -Tennis Court, Squash Court, Billiards, Gymnasium, Min-golf Course, Sauna, Massage, Beauty Salon, Restaurants, Conference Facilities, Currency exchange, Laundry, Cocktail lounge
Room Description:
The well -quipped guestrooms and suites are stylishly designed with a European touch. Spacious and comfortable, the Harbour View Suite ensures guests enjoy the gorgeous views of Macau. All rooms can accommodate either queen, king or twin beds in theroom while suite rooms in the old wing enjoy jacuzzi bath tubs in the bathroom.
Room Facilities:
Telephone, International Call, Air Conditioning, TV, Room Service

Mr. Norman***
Date: 2007-10-08
Nation: Ireland
Type of room: Standard single
Travel for: others
Travel: with partner
Amusements: 10
Location: 6
Welcoming & Kindness: 10
Employees qualities: 10
Breakfast: 7.5
Quality/Price Ratio: 6.5
Bathroom Functioning: 10
Bathroom Courtesy items: 10
Rooms Cleanliness: 10
Quietness: 10 Comfort: 10
Rooms Spaciousness: 10
Rooms Furnishings: 10
Quiet property but alittle far from the shopping area. Price was high perhaps because of Chinese holiday. Breakfast was not included in price of 950 MOP. Regular shuttle bus provided. but no connections to border or airport.
Mr. Henriq***
Date: 0000-00-00
Nation: Thailand
Type of room:
Travel for: others
Travel:
Amusements: 0
Location: 0
Welcoming & Kindness: 0
Employees qualities: 0
Breakfast: 0
Quality/Price Ratio: 0
Bathroom Functioning: 0
Bathroom Courtesy items: 0
Rooms Cleanliness: 0
Quietness: 0 Comfort: 0
Rooms Spaciousness: 0
Rooms Furnishings: 0
We were fairly satisfied. The room was clean and quiet.