Golden Dome International Hotel: hotel in Mudanjiang China






Golden Dome International Hotel Mudanjiang is a 4-star member hotel of China Golden Key Hotel Alliance. Located in Mudanjiang, a famous, beautiful, and scenic city, it is situated in the active downtown area, 25 minutes from the airport and two minutes from the train.
Hotel Address:
No. 99 Jingfu Street, Xi'an District, Mudanjiang City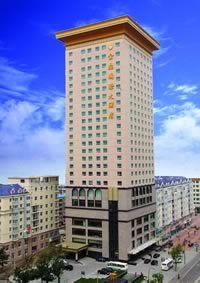 Hotel Room:
257
Season:
High Season , Low Season

Hotel Location:


Location in the city map
To the airport: 25 kms; To the railway station: 0.2 kms; To downtown: 0.2 kms.

See more pictures of Golden Dome International Hotel

Nearby Hotels (less than 3 km):
♦
Golden Dome International Hotel

♦
Mudanjiang Hawaii International Business Hotel

The Golden Dome International Hotel (Jinding Guoji Dajiudian) is located in the bustling business area of picturesque Mudanjiang City, 25-minute drive from Mudanjiang Airport and only 2-minute walk from Mudanjiang Railway Station. This Mudanjiang hotel provides a full range of accommodations. There are also ladies' floor, non-smoking floor and executive floor for guests with special needs. On-site restaurant serves superior seafood and Cantonese as well as northeastern dishes in large banquet hall and deluxe private dining rooms. For business travelers, there is a multifunctional convention center seating up to 400 and variously-sized meeting rooms equipped with advanced audiovisual systems.
Room Description:
The hotel boasts different types of guestrooms, ranging from standard rooms to deluxe suites. All the rooms are comfortable and pleasant. All rooms are equipped with advanced facilities, such as IDD/DDD telephones, satellite TV, mini-bars, broadband access, and central air-conditioning.