Designed for business and leisure travelers accustomed to international high standards by Heilongjiang JiangDa Group, Hawaii International Business Hotel is a 4-star foreign-related hotel. It is an intellectual hotel integrating accommodation, food, beverage, recreation, business and leisure. Situated at the downtown of Mudanjiang, Hawaii International Business Hotel enjoys convenient access to the central business and shopping districts, only 20 minutes drive from airport and 5 minutes walk from the railway station.In October, 2006 officially licenses four stars
Hotel Address:
95 Qixing Street. Mudanjiang,Heilongjiang P R China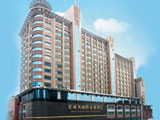 Hotel Room:
272
Season:
High Season , Low Season

Hotel Location:


Location in the city map
To downtown: 0.2km To Mudanjiang Hailang Airport: 10km To Mudanjiang Railway Station: 0.5km

See more pictures of Mudanjiang Hawaii International Business Hotel
Designed for business and leisure travelers accustomed to international high standards by Heilongjiang JiangDa Group, Hawaii International Business Hotel is a 4-star foreign-related hotel. It is an intellectual hotel integrating accommodation, food, beverage, recreation, business and leisure. Situated at the downtown of Mudanjiang, Hawaii International Business Hotel enjoys convenient access to the central business and shopping districts, only 20 minutes drive from airport and 5 minutes walk from the railway station.In October, 2006 officially licenses four stars
Room Description:
10 kinds of room 247 between guest rooms, including presidential suites, deluxe suites,suites, executive standard room,executive single room , deluxe standard room,deluxe single room, Standard single room ,standard room and economical room. All rooms equipped with en-suite mini bar and high speed broadband Internet connection.
Conference:
Include business center, executive lounge and many kinds of meeting rooms (vary in size) which equipped with modern facilities. 300 people can be easily accommodated in the big size conference room. Here is the ideal place for any event such as business conference, seminar and theme parties.
Restaurant:
With the attentive service and authentic cuisine prepared by our experienced chef, Hawaii seafood restaurant, western-style restaurant, and Japanese-style restaurant can easily accommodate up to 1500 people at the same time.
Entertainment:
Include SPA, nightclub, sunlight hall, the chess and billiard room , table tennis room and Fitness club