Hotel Address:
Yalong Bay National Resort Area, Sanya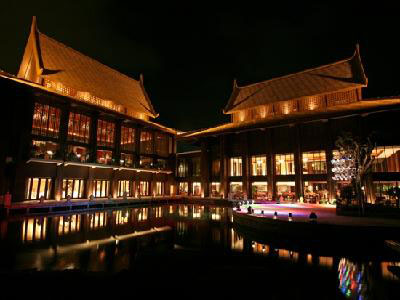 Hotel Room:
193
Season:
High Season , Low Season

Hotel Location:


Location in the city map
To Sanya Phoenix Airport: 42km; To Downtown: 30km;

See more pictures of Pullman Sanya Yalong Bay Resort & Spa
Distance from landmarks:
To Jingrun Pearl Cultural Museum about 2.5km,
To Yalong Bay National Resort Yalong Bay shellfish Museum about 6.34km,
To Yalong Bay Golf Club about 8.22km,
To Yalongwan about 8.23km,
To Sanya New Train Station about 8.92km,
To SanYa Beauty Crown Exhibition Center about 9.82km,
To Sanya Jiefang Lu pedestrian street about 11.67km,
To Sanyabay about 12.25km,
To Dadong Sea about 12.59km,
To Luhuitou Park about 12.65km,
To Sanya Phoenix International Airport about 21.24km,
To Tianyahaijiao about 27.91km,
To Hainan Sanya International Golf Club about 39.12km,
To Guanyin Statue of Hainan about 42.61km,
To Nanshan temple about 44.83km,
To Daxiao Dongtian Scenic Spot about 48.13km,

*** Clicking on the underlined words you can find other hotels close to the same landmark
Nearby Hotels (less than 3 km):
♦
Resort Golden Palm, Samya

♦
Resort Horizon, Sanya

♦
Sheraton Sanya Resort

♦
Pullman Sanya Yalong Bay Resort & Spa

♦
Dragon Bay Hotel Sanya

♦
Grand Metro Park Bay Hotel Sanya

Pullman Sanya Yalong Bay Resore & Spa is located in the most famous Yalong Bay National Tourism and Resort district in Hainan. It is a luxury boutique resort that leads a new concept of holiday and leisure on the tropical island. It is a 5-star level establishment specially designed for business travelers. The resort is available for 115 villas and a main building of 82 guest rooms. The villas are designed in different styles; each villa has a private swimming pool. Pullman hotels and their staff also offer a complete range of new services designed to respond better to the requirements of a clientele that is demanding and often in a hurry. Pullman Sanya Yalong Bay Resort & Spa is waiting for you. Opened in January 2008
Hotel Facilities:
, 24-hour front desk, Swimming Pool, Meeting Rooms, Conference facilities, Air-conditioned Public Areas, Relaxation Facilities
Room Description:
Great events take great surroundings. With 6 flexible well designed meeting rooms and a Pacific Grand Ballroom, accommodating up to 350 people, the resort is the perfect venue for many types of event, whether an Executive team retreat, incentive dinner, themed product launch or cocktail party. Each room offers state-of-the–art audio visual facilities and internet access.
Room Facilities:
, Cable/satellite TV, Air conditioning, Private bathroom, Domestic Direct-dial phone, International Direct-dial phone, Wake-up calls, Balcony or terrace, 220AC, Internet access