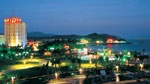 To SanYa Beauty Crown Exhibition Center 3.84km
Address: Dadonghai, Sanya Hainan, 572021, China


Located at the side of East China Sea--one of the most famouse beauty spots for touring, it is a 4-star multi-function hotel for spending vacation, relax, sight view and tour, international meeting, business negotiation. It is near SanYa Phenix International Airport, surrounded by mountain and sea and the city is green all year. The hotel view, which is formed by breeze, sunshine, sand, seawater and the tropic garden, is luxury, snug and romantic and make you can't tear yourself away. Checking in South China Hotel gives you the feeling of being home.