Boutique Resort, Sanya: hotel in Sanya China






Hotel Address:
No. 33 Yu Ya Road, Dadonghai, Sanya, 572021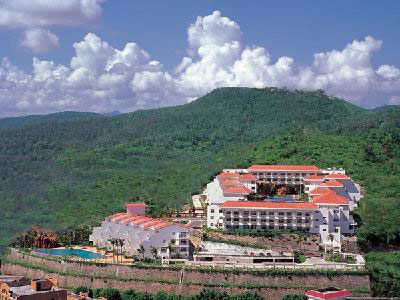 Hotel Room:
186
Season:
High Season , Low Season

Hotel Location:


Location in the city map
The hotel is conveniently located above the city center "Dadong" Sea, between these two major tourist attraction areas allowing easy access to both. To Downtown: About 2 Km To Phoenix Intel. Airport: About 20 Km To Sanya Train Station: About 15 Km To Summer Mall: About 0.5 Km

See more pictures of Boutique Resort, Sanya

Distance from landmarks:
To Luhuitou Park about 2.09km,
To Dadong Sea about 2.26km,
To Sanyabay about 2.58km,
To SanYa Beauty Crown Exhibition Center about 3.72km,
To Sanya Jiefang Lu pedestrian street about 3.78km,
To Sanya New Train Station about 8.42km,
To Jingrun Pearl Cultural Museum about 11.3km,
To Yalongwan about 12.1km,
To Yalong Bay Golf Club about 12.1km,
To Yalong Bay National Resort Yalong Bay shellfish Museum about 13.26km,
To Sanya Phoenix International Airport about 14.97km,
To Tianyahaijiao about 20.33km,
To Hainan Sanya International Golf Club about 31.53km,
To Guanyin Statue of Hainan about 34.42km,
To Nanshan temple about 36.6km,
To Daxiao Dongtian Scenic Spot about 39.93km,

*** Clicking on the underlined words you can find other hotels close to the same landmark
Nearby Hotels (less than 3 km):
♦
Landscape Beach Hotel

♦
Pearl River Garden Hotel, Sanya

♦
Resort Intime, Sanya

♦
Sanya Romantic Seaview Hotel

♦
Sanya Shanhaitian Hotel

♦
Sanya International Hotel

♦
China Hainan (Sanya)Aolisai Hotel

♦
Donggang Seaview Hotel

♦
Sanya South China Hotel

♦
Baohong Hotel, Sanya

♦
Herton Seaview Hotel- Sanya

♦
Eadry Resort Hotel,Sanya

♦
Sanya Marina Hotel

♦
Yuhai Hotel Sanya

♦
Water Industry Seaview Hotel ,Sanya

♦
Sanya Luhuitou Guesthouse & Resort

♦
Boutique Resort, Sanya

♦
Xin Haojing Hotel, Sanya

♦
Emerging Seaview Hotel, Sanya

♦
Mingshen Jinjiang Gaoerfu Hotel Sanya

GuestHouse International Boutique Resort, Sanya is the subsidiary branch of U.S. SHOLODGE INC. in China. The Hotel is located on a mountainside overlooking "Dadong" Sea one of the busiest part of the city. Facilities span an area of more than 29,000 square meters, 50% of which is lush green foliage-the only hotel that include so much of the natural environment. The hotel itself is sequestered in life. Every step you take you can see a different view. Every window you open reveals a different landscape. The sophisticated interior design complements the exterior architecture to blend comfort with nature and give you a unique holiday experience. A large ceiling-to-floor window replaces the traditional closed conference room design. Holding a conference facing the tropical greens and bamboo shoots is quite a unique experience. The conference hall is a great place to make plans or strategies, or even to be intellectually stimulated in nature's company. We fully understand the importance of atmosphere for any kind of business meetings. We assure you that guesthouse international banquet resort sanya will provide the highest quality of service to meet your needs and requirements. In the hotel, we know that every detail of a reception or a banquet is important. Our catering service can provide a variety of local cuisine to match your specific needs. We can also cater specific moods: romantic, modern, buffet, elegant, intimate dinner parties, combined with well-designed menus, invitations and location reminders. Opened in 2004.
Hotel Facilities:
, Business Center, Beauty Salon, Sauna, Swimming Pool, Meeting Rooms, Shopping Center, Coffee Shop, Night Club, TV
Room Description:
The Hotel is built into the mountains, with an exterior design that echoes the shape of nature. The rooms are connected through open corridors that give way to refreshing mountain breezes, the tropical sunshine, and the ocean view. The rooms are spacious and guaranteed to be relaxing and comfortable. 95% of the rooms have private balconies, some of which are as big as 16 square meters. There are 220 rooms in the hotel, each equipped with self-controlled air-conditioning, a personal Safe, mini-bar, domestic and international phone line, writing desk, bathrobes, hair-dryer, books, puzzle games. Everyday we provide complimentary bottled water, tropical fruits and local coffee.
Room Facilities:
, Air conditioning, Domestic Direct-dial phone, International Direct-dial phone