Sanya Marina Hotel: hotel in Sanya China







"Xinhua Chunyu" Spa center brings you a new interpretation of peace and tranquility; SPA on the sea and flavor of Bali isle bring you experience of relief, energy and joy.
Hotel Address:
Luhuitou seaview avenue, Sanya, Hainan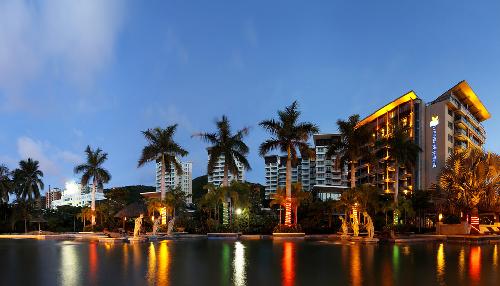 Hotel Room:
101
Season:
High Season 旺季10-3, Low Season 淡季 4-9

Hotel Location:


Location in the city map
To Sanya Fenghuang international airport: 25km; To Railway station: 20km; To City center: 4km; To nearby business center: 4km; Surrounding scenic spots: Jinjiang Golf, Luhuitou Golf, Dadonghai tourist resort, Luhuitou Peak Park, Egret park, Summer department store.

See more pictures of Sanya Marina Hotel

Distance from landmarks:
To Sanyabay about 1.84km,
To Luhuitou Park about 1.96km,
To Sanya Jiefang Lu pedestrian street about 2.79km,
To SanYa Beauty Crown Exhibition Center about 2.8km,
To Dadong Sea about 3.03km,
To Sanya New Train Station about 7.59km,
To Jingrun Pearl Cultural Museum about 11.06km,
To Yalong Bay Golf Club about 12.74km,
To Yalongwan about 12.75km,
To Yalong Bay National Resort Yalong Bay shellfish Museum about 13.71km,
To Sanya Phoenix International Airport about 14.06km,
To Tianyahaijiao about 19.55km,
To Hainan Sanya International Golf Club about 30.79km,
To Guanyin Statue of Hainan about 33.75km,
To Nanshan temple about 35.95km,
To Daxiao Dongtian Scenic Spot about 39.28km,

*** Clicking on the underlined words you can find other hotels close to the same landmark
Nearby Hotels (less than 3 km):
♦
Sanya fusi business hotel

♦
Landscape Beach Hotel

♦
Pearl River Garden Hotel, Sanya

♦
Resort Intime, Sanya

♦
Sanya Romantic Seaview Hotel

♦
Sanya Shanhaitian Hotel

♦
Sanya Shengyi Hotel

♦
Sanya International Hotel

♦
China Hainan (Sanya)Aolisai Hotel

♦
Donggang Seaview Hotel

♦
Harvest Qilin Hotel Sanya

♦
JOYA international Hotel, Sanya

♦
Sanya South China Hotel

♦
Baohong Hotel, Sanya

♦
Herton Seaview Hotel- Sanya

♦
Xinxing Garden Hotel Sanya

♦
Eadry Resort Hotel,Sanya

♦
Sanya Marina Hotel

♦
Yuhai Hotel Sanya

♦
Water Industry Seaview Hotel ,Sanya

Sanya Ma Ruina Hotel is located at Chinese beautiful coastal city of Sanya City Luhuitou Seaview Avenue, with mountains, sea, Bay, three-dimensional nature itself natural ecological landscape, back in accordance with Luhuitou Peak Park, adjacent to the Great East China Sea international tourist resort areas, to bring you not leave town without the city a special love for the sea experience zero distance. SPA unique Bali style atmosphere, exclusive SPA suites and sea SPA Pavilion, in Bali, Indonesia, senior massage technician massage, let you enjoy the sea SPA health and romantic, enjoy the luxury private yacht Gengrang to the incomparable dignity and enjoy the wonderful blend of man and the sea.
Room Description:
The hotel has 101 rooms, such as Senior Seaview Room, Advanced Seaview Suite, Executive Deluxe Sea View Room, Executive Deluxe Sea View Suite, Deluxe Sea View Suite, and SPA Seaview King Room. The hotel also has 3 Independent buildings of Seaview Villa. All the rooms are seaview rooms equipped with Kung Fu tea set, censer, open bathtub and small LCD television at balcony, television, computer and tactile power switch. Modern room facilities, all-weather satellite TV and 24h room service, luxurious private yacht, sea spa on Bali isle, turtles pool, swimming pool beside the sea and independent marina (8 berths), etc., all these service and facilities provide you the best enjoyment.