The Xinxing Garden Hotel (Sanya Xinxing Huayuan Dajiudian) is just a three-minute drive from the Yemengchanglang coastal boulevard and a ten-minute drive from Fenghuang Airport. This exotically designed Sanya hotel offers a variety of recreational facilities such as an outdoor swimming pool, indoor swimming pool, fitness room, sauna and nightclub. Guests can access broadband internet in select rooms.
Hotel Address:
East Road Sanya River, Sanya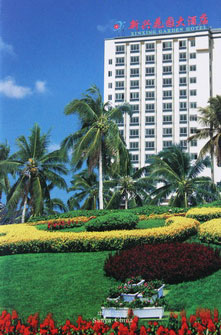 Hotel Room:
222 Rooms
Season:
High Season 1-3; 10-12, Low Season 4-9

Hotel Location:


Location in the city map
To airport: 25km To downtown: 3km

See more pictures of Xinxing Garden Hotel Sanya
Distance from landmarks:
To Sanya Jiefang Lu pedestrian street about 0.22km,
To SanYa Beauty Crown Exhibition Center about 1.82km,
To Sanyabay about 2.06km,
To Luhuitou Park about 3.5km,
To Dadong Sea about 5.58km,
To Sanya New Train Station about 5.91km,
To Sanya Phoenix International Airport about 11.25km,
To Jingrun Pearl Cultural Museum about 11.33km,
To Yalongwan about 15.16km,
To Yalong Bay Golf Club about 15.16km,
To Yalong Bay National Resort Yalong Bay shellfish Museum about 15.7km,
To Tianyahaijiao about 17.09km,
To Hainan Sanya International Golf Club about 28.39km,
To Guanyin Statue of Hainan about 31.54km,
To Nanshan temple about 33.75km,
To Daxiao Dongtian Scenic Spot about 37.08km,

*** Clicking on the underlined words you can find other hotels close to the same landmark
Nearby Hotels (less than 3 km):
♦
Sanya fusi business hotel

♦
Guoxi Hotel, Sanya

♦
Sanya Shengyi Hotel

♦
Sanya International Hotel

♦
China Hainan (Sanya)Aolisai Hotel

♦
Donggang Seaview Hotel

♦
Harvest Qilin Hotel Sanya

♦
JOYA international Hotel, Sanya

♦
Xinxing Garden Hotel Sanya

♦
Eadry Resort Hotel,Sanya

♦
Sanya Marina Hotel

♦
Water Industry Seaview Hotel ,Sanya

♦
Harvest Seaview Hotel Sanya

♦
Huangjindao Hotel, Sanya

♦
Haiyue Bay Holiday Hotel, Sanya

♦
Relax-inn In, Sanya

♦
Xin Haojing Hotel, Sanya

♦
Emerging Seaview Hotel, Sanya

♦
Tianze Beach Resort, Sanya

♦
Wantai holiday hotel, Sanya

Xinxing Garden Hotel is a four-star hotel. The hotel is located in the heart of the city. The driving distance from the hotel to Phoenix Airport is 10 minutes. Xinxing Garden Hotel offers a Chinese restaurant, a Western restaurant, a barbecue spot, beauty salon, chess room, business center, KTV box, nightclub, massage, recreation center, conference room, billiards room, and swimming pool.
Hotel Facilities:
, Business Center, Laundry, Sauna, Restaurants in hotel, Meeting Rooms, Health Club, Billiards, Night Club, Table Tennis, BBQ Area
Room Description:
The hotel provides 222 guest rooms including deluxe business rooms, deluxe rooms, sea-view rooms, honeymoon rooms, and business suites. The rooms are equipped with air-conditioner, cable TV, telephone, and 24-hour hot water. Some rooms provide broadband Internet access.
Room Facilities:
, Cable/satellite TV, Air conditioning, Domestic Direct-dial phone, International Direct-dial phone