Sanya Le Parker International Hotel is invested and bulit according luxury high-star standard by Bifeng International Investment Group (Taiwan) , set health, leisure, business and holiday as one of the boutique hotel.
Hotel Address:
Intersection of Hexi Road &Wenming Road,Sanya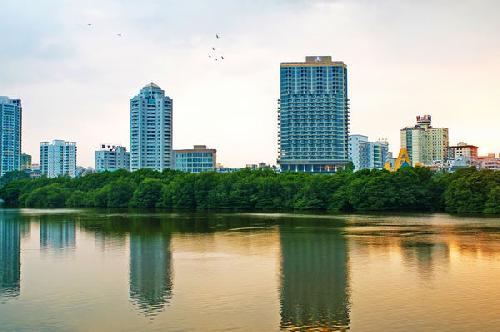 Hotel Room:
368
Season:
High Season , Low Season

Hotel Location:


Location in the city map
It takes about 20 minutes from Sanya Airport to Sanya Le Parker Hotel by taxi, cost is CNY50/way. Number. Within less than 5 minutes walking to Mingzhu Department store on Jiefang 3 Road, No.8 bus takes you to Sanya Airport costing only CNY6/way, No.4 bus takes you to Sanya Train Station at CNY1/person, No.2 bus takes you to Dadonghai Beach, Sanya Bus Station, No.15 bus takes you to Yalong Bay, and there are buses running every 5-10 minutes to Sanya's Popular tourist destinations: Tianyahaijiao (The Ends of the Earth), Nanshan Buddhism Park.

See more pictures of Sanya Le Parker International Hotel
Sanya Le Parker Hotel is located right in the shopping and dining center of Sanya, No. 3 Jiefang Road with more than 200 rooms. Le Parker Hotel is a property hotel invested and managed a company from Taiwan with more than 300 rooms. Sanya Le Parker Hotel boosts a great location, just steps away from Sanya's Busiest shopping, dinning and entertainment center. But different from other city hotels in hustle city center, Sanya Le Parker Hotel is located just steps away from Sanya River, makes it a perfect choice for both city life and quiet vacation. The biggest department store/shopping center Mingzhu is just steps away. With supreme location, new rooms and high quality facilities, Sanya Le Parker Hotel is really a good choice for guests who wish to explore Sanya's local life, do sightseeing, shopping or business travel.
Hotel Facilities:
Business center, room service, laundry service, wake up service, concierge services, travel services, Shoe Shine, Currency Exchange, ATM, front valuables safe, free parking, bus or car rental services, beauty / hairdressing.
Room Description:
The hotel has seven different types and characteristics of a total of 368 luxurious rooms, respectively, City View Room, garden view room, elegant rooms, lake view rooms, sea view rooms, sea view rooms, panoramic room. Room size ranging from 40-68 square meters, fully equipped indoor facilities. Standard rooms are equipped with small view balconies and cozy compact kitchen; unique solarium floor has spacious view balconies; senior panoramic room has more unique transparent design on three sides and embrace the wonderful view of mountains.
Restaurant:
Located right in the center of Sanya dining & entertainment area, one should not worry about where to go or what for dinner while staying in Sanya Le Parker Hotel. Steps away from Sanya Le Parker Hotel, you will find all kinds of cuisines of China: Local seafood, Hunan & Sichuan Spicy, International, Hot Pot....... Sanya Le Parker itself has Coconut Bar, Kobayashi for delicate Sushi Lounge, Seattle for see food, Le Fish for western breakfast with Sanya river view, Rong Ting for Chinese Canton and Hainan Specials.
Entertainment:
Gym, billiard, sauna bath center, SPA, golf, chess mahjong, outdoor swimming pool