Jinjiang Inn SanYa Jiefang Road: hotel in Sanya China


Jinjiang Inns is the budget brand from leading Asian hotel group Jin Jiang Hotels, and offers simple, clean, safe and comfortable rooms for business and leisure travelers.
Hotel Address:
SanYA city Jiefang Road No.741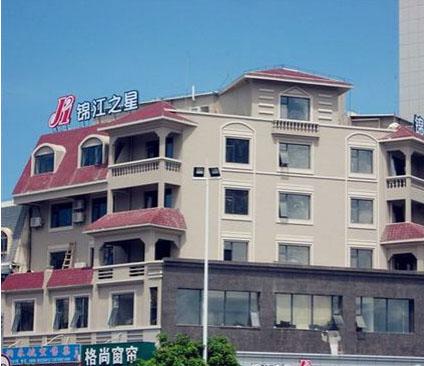 Hotel Room:

Season:
High Season , Low Season

Hotel Location:


Location in the city map
Sanya Phoenix International Airport 17 km Sanya Railway Station 6.5 km Sanya Pedestrian Street 1 km

See more pictures of Jinjiang Inn SanYa Jiefang Road

Distance from landmarks:
To Sanya Jiefang Lu pedestrian street about 1.17km,
To SanYa Beauty Crown Exhibition Center about 2.01km,
To Sanyabay about 3.01km,
To Luhuitou Park about 4.45km,
To Sanya New Train Station about 5.2km,
To Dadong Sea about 6.53km,
To Sanya Phoenix International Airport about 10.63km,
To Jingrun Pearl Cultural Museum about 11.14km,
To Yalongwan about 15.67km,
To Yalong Bay Golf Club about 15.67km,
To Yalong Bay National Resort Yalong Bay shellfish Museum about 16.03km,
To Tianyahaijiao about 16.69km,
To Hainan Sanya International Golf Club about 28km,
To Guanyin Statue of Hainan about 31.23km,
To Nanshan temple about 33.45km,
To Daxiao Dongtian Scenic Spot about 36.77km,

*** Clicking on the underlined words you can find other hotels close to the same landmark
Nearby Hotels (less than 3 km):
♦
Sanya fusi business hotel

♦
Guoxi Hotel, Sanya

♦
Sanya Shengyi Hotel

♦
Sanya International Hotel

♦
China Hainan (Sanya)Aolisai Hotel

♦
Donggang Seaview Hotel

♦
Harvest Qilin Hotel Sanya

♦
JOYA international Hotel, Sanya

♦
Xinxing Garden Hotel Sanya

♦
Harvest Seaview Hotel Sanya

♦
Huangjindao Hotel, Sanya

♦
Sea Area Central Resort Hotel, Sanya

♦
Haiyue Bay Holiday Hotel, Sanya

♦
Relax-inn In, Sanya

♦
Xin Haojing Hotel, Sanya

♦
Emerging Seaview Hotel, Sanya

♦
Tianze Beach Resort, Sanya

♦
Wantai holiday hotel, Sanya

♦
Sanya Huahong Hotel

♦
Sanya Dongfang Haijing Hotel

Jinjiang star (sanya jiefang road shop) is located in no. 741 jiefang road, walk 100 meters to the pearl plaza, spring park seafood market, 200 meters from sanya bay beach, the geographical position is superior, the transportation is very convenient, can reach all tourist attractions. The hotel has 107 guest rooms, business rooms, double room, double room, B, A and B business room and standard room, business room room decorate delicate, simple, sweet, comfortable accommodation environment, is an ideal hotel guests travel business travel, home of choice. Jinjiang star hotel chain welcome you! Hotel opening time in September 2012, building 6 floors, a total of 107 rooms (sets).
Room Description:
The hotel has 107 guest rooms, business rooms, double room, double room, B, A and B business room and standard room, business room room