The Sanya Huayuan Hot Spring Seaview Resort (Sanya Huayuan Wenquan Haijing Jiudian) enjoys close proximity to Sanya Bay, known for its white sandy beach, azure sea and coconut trees.
Hotel Address:
Heng Road No. 1 Haipo Development Zone, Sanya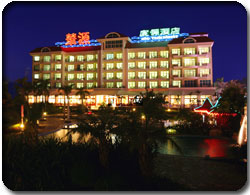 Hotel Room:
120
Season:
High Season , Low Season

Hotel Location:


Location in the city map
10kms from the downtown, 6kms from the Phoenix International Airport, 12kms from the end of earth, 30kms from the Nan Shan Buddhism Cultural Center. Famous landscape: the Nan Shan Buddhism cultural center, Sanya Bay, the End of Earth.

See more pictures of Sanya Huayuan Wenquan Dujia Hotel
A newly opened four-star hotel, it is located in the famous Haipo tourism area endowed with the "coconut palm gallery", Sanya bay. It has 120 spacious and deluxe rooms. The four meeting rooms, with capacity of 10-250 people, can meet all demands. Sun, sand, waves and sweet wind remind you that you are far away from the noisy city. Opened in 2003.
Hotel Facilities:
, Business Center, Postal/Courier Service, Beauty Salon, Wheelchair accessible, Swimming Pool, Restaurants in hotel, Room service, Health Club, Chess Room, Billiards, Dancing Hall, Massage (Foot/Traditional/etc.)
Room Description:
It has 34 standard Sea-view Rooms, 34 Deluxe Sea-view Rooms, 6 Deluxe Sea-view Family Rooms, 4 Deluxe Sea-view Triple Rooms, 10 Superior Sea-view Suites, 4 Deluxe Sea-view Suite, 2 Villas, and 1 President Villa. Each room has broadband access and hotspring water available for bath.
Room Facilities:
, Internet access–high speed, Cable/satellite TV, Air conditioning, Domestic Direct-dial phone, International Direct-dial phone, Hair dryer, Wake-up calls, Dressing Table, 24hour hot water, Room Hotspring